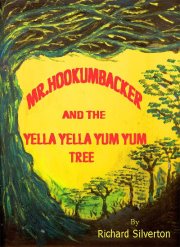 About the book:
Mr. Hookumbacker and the Yella Yella Yum Yum Tree
is a children's adventure story. The Forest of the Cracking Stone is full of wonder and natural beauty. It is also a place of magic as well as honey tickles, bumbletums, sapling shines and a kindly old tree master called Mr. Hookumbacker.
When the sapling shine Holly Shallina leaves the safety of the Forest of the Cracking Stone, she becomes trapped in the ground by the first rays of the rising sun. Holly's friends Buddy Trix, Cherry Petals and Shubbie Willows ask for Mr. Hookumbacker's help. When he agrees a race against time begins. Together they must journey far away to find a Yella Yella Yum Yum tree. Their journey takes them to a forbidden wood full of grubble wig and needle node weeds and on to the Forest of the Falling Waters. From there they must return with enough time to save Holly Shallina.
My Review:
Richard Silverton's tale of Mr. Hookumbacker and the Yella Yella Yum Yum Tree is a fun adventure story aimed for children ages 5-8 years old. Both of my girls fit right in that age range, so I thought this would be a great book for us to read together for this review.
This fun adventure will tickle the reader's tongue as it is read. The names of the places and characters in the story are straight from fantasy and both of my girls ended up with a fit of giggles as I tried to read this ebook to them. I had to slow down and read it a little at a time to keep the giggles at bay. Though the story is fun and full of adventure, I think my girls liked me trying to read it better than the story itself. My youngest (turns 5 next week) got bored part way through and decided she wanted to read something else. My older daughter said it was "a fun story, and funny too."
If you like books that make you laugh, think and take the reader(s) on a fun adventure, then give
Mr. Hookumbacker and the Yella Yella Yum Yum Tree
a try. It does have an environmental message about saving the trees, but it is subtle. My girls and I wished there were more pictures throughout the story, it would have been fun to see the author's imagination come to life with more great illustrations.
Richard Silverton (author) can be found on
Facebook
and
Twitter
.
You can purchase the book on
Amazon
.

I received one or more books or products in the post above for review purposes only. I was in no way required to write a positive review. All my reviews are my honest and personal opinion
. If you have any questions or comments, please see my FTC disclosure or Review Policy.