ML2R:
Welcome Nate, what would you like to share with my readers today?
Nate:
Hey everyone! It's me ... Nathan Rockledge! Well, you probably know me better as Nate Rocks, but that's only when I turn myself into one of my cartoons. In real life, everyone knows me as Nathan. Anyway, I'm super excited to be here to talk to you all. Today I want to talk about school. I know, I know – b-o-r-i-n-g – but hey, just hear me out.
You see, I'm in fifth grade now, and it's way cooler than being in fourth grade. That's right – I'm one of the big kids. No more being forced to play kickball or lunch or getting walked to the bus in pairs. Nope. Now I get to walk to the bus all by myself. Impressive – right? Uh, yeah, I guess typed out like that it doesn't look all that cool, but trust me it is.
There are other great things about school this year also. For example, my best friend Tommy is in my class and we have a cool teacher who lets us pick our own partners to work with. Not like last year. Remember when I got stuck working with Lisa Crane? That was the worst! Although, I am kind of am still stuck with her. You see, we're hopefully going on a class trip to New York City this year (another cool plus about being in fifth grade) and somehow Tommy and me got stuck on a committee with her. Not fun, and I don't even want to talk about it!
Hey – did I tell you we also get to have our own Halloween dance? It's true – just stay away from Mom's Brain Pudding ... you have been warned!! Speaking of Halloween, I think I may have found a way around Mom's ridiculous no weapon rule. I mean, she won't even let me carry a sword made out of tin foil and cardboard! Is that crazy or what? But this year I got smart. Fifth grade will do that to you, you know. Instead of a sword, I'm going to ... Oh wait, I'm supposed to be talking about school – sorry about that.
Anyway, Yeah, I know math and spelling can be a drag sometimes, but it's worth putting up with it for a few hours to get all the good stuff. Plus, it's not like we have a choice in the matter anyway. My point is that this fifth grader thinks school is a pretty cool place to spend my days.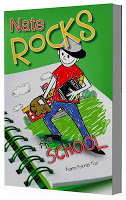 Nate Rocks Is At It Again . . .

According to Nathan Rockledge, fifth grade has plenty of perks. Oh sure, there's more work, and he still has to deal with the know-it-all, Lisa Crane. Luckily, there is a lot to look forward to as well: a laser tag birthday party, baseball at recess, and even a cool Halloween dance. Of course, all of that means nothing without the biggest perk of all … the class trip to New York City in the spring. If his class can raise enough money to go, that is.

Give Nathan paper and a pencil, and watch as his imagination turns him into Nate Rocks, hero and fifth-grade super star. With adventures abound, Nate saves the day time and again. But will Nate be able to save the fifth grade trip?

Join Nathan, his hilarious family, and his friends, as he rocks the school in another fun Nate Rocks adventure.
My Review:
My son and I have both read all of the Nate Rocks books so far. He even added his own review of the first book here on my blog. We both agree that following Nate Rocks on his imaginative adventures is both entertaining and exciting.
You see, the main character, Nate has a very active imagination. And so does my son. They both love to dream, draw and create their own unique adventures. Nate's dreams and adventures see him saving the world in all sorts of wonderful and creative ways. In Nate Rocks the School, he is faced with a very real problem and his wonderful imagination can help him solve it, but only if he believes in himself and works hard. He and his friends need to raise money to go on a school field trip. They work hard to come up with a great idea on how to raise the money in time. Each time they try, they keep falling short of the goal, until the very last moment when someone shows Nate that his dreams really can come true.
Through it all, the reader gets to know Nate, his friends, his foes, his Mom and big sister. We see that Nate is a typical 5th grade boy with sibling problems, girl problems, real friends and school woes and so much more.
Nate Rocks the School is the third book in the Nate Rocks series. It is a great series geared towards boys, but girls will enjoy it as well. My son and I love this series and look forward to many more to come!
Make Sure to Check out ALL of the Nate Rocks Books by Karen P. Toz
(click on the book titles to read my reviews)
And Don't Forget Millicent Marie is NOT my Name
a great book for middle school girls
LOVE A GOOD GIVEAWAY? ARE YOU A NATE ROCKS FANatic?
THEN ENTER BELOW FOR A CHANCE TO WIN
A NATE ROCKS SWAG PACK!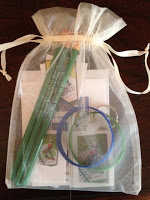 To enter, Just fill in the form below! Open World Wide!

I received one or more books in the post above for review purposes only. I was in no way required to write a positive review. All my reviews are my honest and personal opinion
. If you have any questions or comments, please see my FTC disclosure or Review Policy.