"This article may contain a

book or

product sample and/or links to ot

her

website(s). See my FTC discl

o

sure for more det

ails

."

Emerald Fire by Hallee Bridgeman
~ Book 2 of the Jewel Trilogy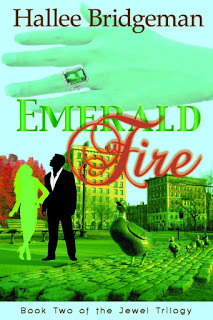 A terrifying past imprisoned Maxine Bartlett all her adult life, shackling her with fear anytime a man even touched her.
In a spontaneous weekend, she unintentionally elopes with an unlikely groom. After a magical wedding night filled with love and passion, "Maxi" finally discards her dreadful chains.
She doesn't know that her new husband has turned his back on God. Worried over how the world might see the completely unexpected – and some would certainly say inappropriate – marriage, in his pride he promises Maxine a quiet annulment.
Unwilling to let their marriage disappear as if it never happened, Maxine refuses to cooperate. Seeking God's will, she moves in with him and informs him that when he decides to act like her husband again, he will find his loving wife waiting for him right there in their home. As the days stretch into weeks, the newlyweds slowly begin to trust and even love each other.
Then, just as they begin to live the "happily ever after" love story that neither of them ever dreamed could come true, a sudden and nightmarish catastrophe strikes that could wreck everything. Will her husband realize that he must trust God once more? Can he find peace and strength enough to carry them through the flames?
My Review
:
Emerald Fire is book 2 in the Jewel Trilogy by author Hallee Bridgeman. The author offered me a chance to review the whole trilogy and host a giveaway as well. After reading the blurbs I was excited to get a chance to review these Christian Fiction books on my blog.
Emerald Fire is Maxine's story. She is the second oldest of the three sisters who were raised by a drug addict mother and her many, many men. She went through some horrible situations before her mother was murdered and even more after she was put in a few different foster homes. When her big sister Robin was finally able to get custody of her she was 15 years old and had been through more than any young girl should have. She could not stand for any man to touch her, and by the time she went on the Trip with her "friend" Barry to Las Vegas, she had never even allowed a man to kiss her.
I loved this book, of course. Just as I knew I would after reading Sapphire Ice! Maxine's story is much like Robin's except for the fact that during a stay with one of her foster families, she was raped. Big sister Robin found out and stabbed the man with a kitchen knife but not soon enough to protect young Maxi from his abuse. Her story is one that made me sad, angry and in anguish for they young girl. Her inner strength touched my heart and I found myself reading faster and faster to find out what would happen next. Her friendship with her married friend Barry seemed innocent enough until the tragic death of his unfaithful wife. Maxi finds herself trying to help Barry by growing closer to him and being there for him when he struggles with his faith in God. Only, she finds herself a bit too close and ends up married to him, with him regretting their quick wedding.
Their struggles with faith, their friendship and eventual love, and the difficulties they then face as a newly and married couple keeps the story alive and intriguing to the very end. This book is not for younger readers. There is mention of abuse, rape, drug use, and assault. It is definitely a wonderful, emotional story that will surely tug at your heartstrings.
*Giveaway will begin by June 1st - come back to enter!
About the Author:
Hallee Bridgeman lives with her husband and their three children in small town Kentucky. When she's not
http://www.halleethehomemaker.com
).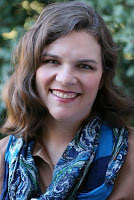 writing Christian romance novels, she blogs about all things cooking and homemaking at Hallee the Homemaker.
Hallee started writing when her oldest child and only daughter was a baby, but a busy professional career and being the wife of a deployed soldier had her shelve her books for another time. Two more children, a cross country move, and God's perfect timing brought the books off of the shelf to be dusted off and presented to you now.

Hallee loves coffee, campy action movies, and regular date nights with her husband. Above all else, she loves God with all of her heart, soul, mind, and strength; has been redeemed by the blood of Jesus Christ; and relies on the presence of the Holy Spirit. She prays her books are a blessing to you and would love to hear back from you.
Link:
http://www.bridgemanfamily.com/hallee/category/books/emerald-fire/

I received one or more items for this review from the sponsor mentioned in the post. All my reviews are my honest and personal opinion and are not influenced nor reviewed by the sponsor prior to posting.
If you have any questions or comments, please see my FTC disclosure or Review Policy.