"This article may contain a

book or

product sample and/or links to ot

her

website(s). See my FTC discl

o

sure for more det

ails

."

Sapphire Ice by Hallee Bridgeman
~ Book 1of the Jewel Trilogy
To Robin Bartlett, men were nothing more than violent users. After a hair-raising childhood, Robin and her two younger half sisters battled simply to survive. Determined to give her sisters a very different life from that of their mother; to never have to rely on a man for anything, she worked two jobs and put them both through college, while accepting help from no one. Her heart had turned to ice and she had no use for men or God.
Antonio "Tony" Viscolli had grown up on the streets, homeless. At seventeen, he entered a downtown church with the intent of casing it, but found himself on his knees at the altar. After being fostered by the youth minister, Tony followed God's leading and eventually became a very successful and powerful businessman. In a fallen world, he was a gem.
When Tony bought the restaurant where Robin bartended, she immediately resented his intrusion into her well ordered, but exhausting, life. She suspected his offering her special attention and constant kindness was merely his way of expecting something from her in return, something she wasn't willing to give.
Tony knew God had led him to Robin. Would she ever allow herself to trust him? Could she ever allow herself to trust God? Or would the winter of their tragic youth rise from the shadows of the past and freeze any chance at happiness?
My Review
:
Sapphire Ice is book 1 of the Jewel Trilogy by author Hallee Bridgeman. The author offered me a chance to review the whole trilogy and host a giveaway as well. After reading the blurbs I was excited to get a chance to review these Christian Fiction books on my blog.
Sapphire Ice begins the trilogy with Robin's story. She is the oldest of three sisters who were raised by a drug addict mother and her many, many men. The girls were all neglected and abused until the day their mother was murdered. Robin fought to get her sisters back together and after years of struggle was finally able to have them all living together in a small apartment. Her life is hard - she works two jobs to pay the bills and put her sisters through college and refuses any and all help. When Robin meets Tony she takes and instant dislike to him, while at the same time fights strange feelings of attraction. As their unlikely romance blossoms, she is reluctant to give her heart to God and Tony.
I loved this book. Robin's story touched my heart and I found myself empathizing with her childhood and the difficult choices she made to keep her sisters together. Her struggles are so realistic and heartrending, and her relationship with Tony not only pushes her past her normal barriers but also shows her God's faithfulness and Love. This is not a book for younger readers. There is mention of abuse, rape, drug use, and assault. It is definitely a wonderful, emotional story that will surely tug at your heartstrings.
*Giveaway will begin by June 1st - come back to enter!
About the Author:
Hallee Bridgeman lives with her husband and their three children in small town Kentucky. When she's not
http://www.halleethehomemaker.com
).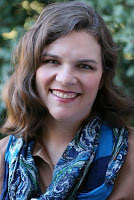 writing Christian romance novels, she blogs about all things cooking and homemaking at Hallee the Homemaker.
Hallee started writing when her oldest child and only daughter was a baby, but a busy professional career and being the wife of a deployed soldier had her shelve her books for another time. Two more children, a cross country move, and God's perfect timing brought the books off of the shelf to be dusted off and presented to you now.

Hallee loves coffee, campy action movies, and regular date nights with her husband. Above all else, she loves God with all of her heart, soul, mind, and strength; has been redeemed by the blood of Jesus Christ; and relies on the presence of the Holy Spirit. She prays her books are a blessing to you and would love to hear back from you.
Link:
http://www.bridgemanfamily.com/hallee/book-samples/jewel-trilogy-1-sapphire-ice/

I received one or more items for this review from the sponsor mentioned in the post. All my reviews are my honest and personal opinion and are not influenced nor reviewed by the sponsor prior to posting.
If you have any questions or comments, please see my FTC disclosure or Review Policy.