"This article may contain a

book or

product sample and/or links to ot

her

website(s). See my FTC discl

o

sure for more det

ails

."

Greater Than Rubies
by Hallee Bridgeman
~ Book 1.5 of the Jewel Trilogy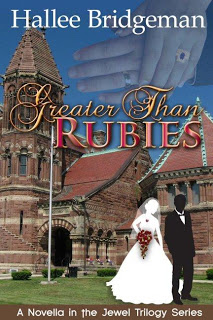 Robin Bartlett said, "Yes!" Will she say, "I do," when the big day arrives?
From his cultured handsome looks to his vast fortune, Antonio "Tony" Viscolli is every red-blooded American girl's dream match. It doesn't hurt that he completely loves and adores Robin with all his heart and soul from practically the moment they first meet. Robin comes from a blistering past, struggling and fighting for the survival of herself and her two younger half-sisters in a cold, cruel world. By the time Tony thaws her heart, she has known hunger, poverty, violence, and want. Robin never had a chance to dream of a white wedding gown or a prince charming. Instead, her dreams were nightmares dark and clouded with fear and desperation.
For months, Tony courted the blond beauty with the sapphire eyes. He teased Robin and pursued her. He showered with attention, respect, and charm. He covered her in diamonds, sapphires, and rubies. Tony satisfied every heart's desire. Finally, Robin came to understand God's love for her as imitated by the unconditional love Tony freely offered. Then, on a sunny Florida beach, Tony proposed and Robin eagerly said "Yes!"
Back in bitter cold Boston, doubts about becoming a billionaire's bride begin to crowd out her hopes for happiness. Robin worked for tips until just a few months before Tony proposed on that sunny stretch of sand. In fact, she waited his table less than half a year earlier. Having no experience facing these challenges, Robin struggles to cope feeling the pressures of relocating; of unreliable transportation; of the never-ending details of the shower, the ceremony, the reception, the honeymoon; of worries that her sisters will smoothly transition along with her; of changing her name; all while dealing with her father's very serious legal problems.
As the date draws inexorably near and the pressure mounts, Robin begins to grasp the scale of her fiancé's vast material wealth and holdings, the responsibilities of the virtual empire he commands. She witnesses his generosity when he takes on a young protégé straight from the tough South Boston streets.
Ultimately, Robin questions whether she is truly the girl of Tony's dreams. Is she the woman God has made for him? In taking her on as a wife, would she act as helpmeet or poison apple? In truly loving Tony, would it be better to bind herself to him for all eternity or return his freedom? When her nightmares return in full force, they remind Robin of an even deeper and more terrifying prospect. Will she give in to her insecurities and cancel Boston's "Royal Wedding" for good? Or, with God's guidance, will Tony sacrifice everything to prove to his beloved Robin her true worth?
My Review:
Greater Than Rubies is a short story written between books 1 and 2 of the Jewel Trilogy by author Hallee Bridgeman. The author offered me a chance to review the whole trilogy and host a giveaway as well.
I loved reading about Robin and Tony's wedding! I was wondering how that would go, and Halle Bridgeman both surprised and excited me with her story of their wedding and Robin's struggles as she plans a major wedding for a very rich man. Her struggles with her past, her feelings of self-doubt and not feeling good enough for Tony lead to some amazing drama leading up to the final moments when she decides if she can truly be the wife Tony deserves. It is an amazing story and one I am so very glad I got to read.
This book is not for younger readers. There is mention of abuse, rape, drug use, and assault. It is definitely a wonderful, emotional story that will surely tug at your heartstrings.
Greater Than Rubies can be found on Amazon.com for FREE ~
http://www.amazon.com/Greater-Christian-Romance-Trilogy-ebook/dp/B00AV59ANM
About the Author:
Hallee Bridgeman lives with her husband and their three children in small town Kentucky. When she's not
http://www.halleethehomemaker.com
).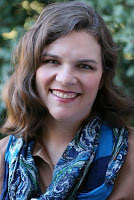 writing Christian romance novels, she blogs about all things cooking and homemaking at Hallee the Homemaker.
Hallee started writing when her oldest child and only daughter was a baby, but a busy professional career and being the wife of a deployed soldier had her shelve her books for another time. Two more children, a cross country move, and God's perfect timing brought the books off of the shelf to be dusted off and presented to you now.

Hallee loves coffee, campy action movies, and regular date nights with her husband. Above all else, she loves God with all of her heart, soul, mind, and strength; has been redeemed by the blood of Jesus Christ; and relies on the presence of the Holy Spirit. She prays her books are a blessing to you and would love to hear back from you.
Link:
http://www.bridgemanfamily.com/hallee/category/books/greater-than-rubies/

I received one or more items for this review from the sponsor mentioned in the post. All my reviews are my honest and personal opinion and are not influenced nor reviewed by the sponsor prior to posting.
If you have any questions or comments, please see my FTC disclosure or Review Policy.