"This article may contain a

book or

product sample and/or links to ot

her

website(s). See my FTC discl

o

sure for more det

ails

."

Hey God, I've Got Some Guy Named Jonah in My Stomach and I Think I'm Gonna Throw Up!
The whale tells his side of the story.
Brought to you by
B&H Kids
, Available May 1, 2013.
This book is just $9.99 and will entertain you and your kids! Available
here
.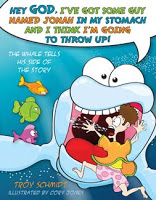 Oh sure, we'll all heard the story of Jonah and the Whale a hundred times. But have we heard it from the perspective of the whale who experienced that history-making event?
Hey God, I've Got Some Guy Named Jonah in My Stomach and I Think I'm Gonna Throw Up!
imagines how that great sea creature from the incident might tell his side of the story, helping kids ages 4 to 8 discover a creative way of learning about that guy who was supposed to go to Ninevah.
The "Parent Connection" feature will help moms and dads take the story further with scripture references and tips on how to talk with their children about what really happened. There's even a free online app to make this bright retelling even more animated and interactive.
My Review
:
My daughters both absolutely loved this book! They couldn't stop giggling while reading it over and over. It is a funny story with somewhat dry humor at times that tells the story of "Jonah and the Whale" from the whale's point of view. With entertaining illustrations, and comical wording; this story is one that will keep children and adults alike entertained from cover to cover. It is definitely a book worth reading over and over.
About the Author:
Troy Schmidt has writing and video production credits ranging from assignments with Disney (The Mickey Mouse Club) and Nickelodeon to Max Lucado's Hermie franchise. He is currently the lead writer for The American Bible Challenge hosted by Jeff Foxworthy on the Game Show Network. Troy and his wife have three sons.

The series:

This is just the first in a series! Other books available include

Hey God, Can You Stop the Rain so I Can Get off Noah's Smelly Ark? and Hey God, I'm Having an Awful Vacation in Egypt Thanks to Moses!
Twitter
:
@troyeschmidt
Now for the FUN! A Giveaway!
TWO winners
will be randomly chosen, each will receive a copy of
Hey God, I've Got Some Guy Named Jonah in My Stomach and I Think I'm Gonna Throw Up!
Open to US only.
Giveaway will run from 5/16 through 5/22

I received one or more items for this review through flypropeller . All my reviews are my honest and personal opinion and are not influenced nor reviewed by the sponsor prior to posting.
If you have any questions or comments, please see my FTC disclosure or Review Policy.