"This article may contain a

book or

product sample and/or links to ot

her

website(s). See my FTC discl

o

sure for more det

ails

."

Jennifer: An O'Malley Love Story
Bethany House Publishers (May 1, 2013)
by
Dee Henderson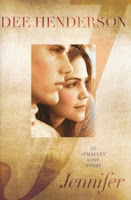 ABOUT THE BOOK
It's a summer of change for Jennifer O'Malley. The busy physician has a pediatrics practice in Dallas, and meeting Tom Peterson, and falling in love, is adding a rich layer to her life.
She's sorting out how to introduce him to her family--she's the youngest of seven--and thinking about marriage.
She's falling in love with Jesus too, and knows God is good. But that faith is about to be tested in a way she didn't expect, and the results will soon transform her entire family.
If you would like to read the first chapter of Jennifer: An O'Malley Love Story, go to HERE.
ABOUT THE AUTHOR:
Dee Henderson is the bestselling, award-winning author of 15 previous novels, including the acclaimed O'MALLEY series and UNCOMMON HEROES series. These days, most authors are out there energetically promoting their books in print and broadcast and via social media—wherever they can get attention. But Dee Henderson keeps a low profile. She avoids telephone interviews because of hearing problems, declined to provide a current photo, and will say only that she lives in Illinois.
My Review
:
I have previously read Dee Henderson's O'Malley series and loved each and every one of them. I had planned on re-reading the series over this coming summer. Now that I've had a chance to read
Jennifer: An O'Malley Love Story
I am even more excited about rereading the O'Malley series as soon as I can.
This story is sweet and heartwarming. I loved the characters and her growth in her Christian faith. The story is a quick read and kept my interest from beginning to end. I was sad when the book ended, and wanted to read more and more.
This is a wonderful read for Christian Fiction lovers, those who like softer stories and those who love a good story of finding faith with some sweet romance included.

I received one or more items for this review from the sponsor mentioned in the post. All my reviews are my honest and personal opinion and are not influenced nor reviewed by the sponsor prior to posting.
If you have any questions or comments, please see my FTC disclosure or Review Policy.