"This article may contain a

book or

product sample and/or links to ot

her

website(s). See my FTC discl

o

sure for more det

ails

."

Love lost doesn't mean love lost forever.
Can unexpected romance deliver a second chance for two deserving widows?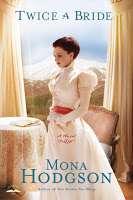 Full of resolve, young widow Willow Peterson decides to pursue her dreams to be an artist as she settles into a new life in the growing mountain town of Cripple Creek. When she lands a job working as a portrait painter with handsome entrepreneur and photographer Trenton Van Der Veer, the road before Willow seems to be taking a better-than-anticipated turn.

With questions tugging at several hearts in town, including the Sinclair Sisters' beloved Miss Hattie, change is traveling down the tracks as several unexpected visitors make their way out West. Will the new arrivals threaten the deep family bonds of the Sinclair sisters and the roots of love that are just taking hold for Willow?

Filled with the resonating questions that all women face, this romance awakens hope against grief, love against loss, and dreams against life's unexpected turns.
My Review
:
Once again author Mona Hodgson has taken the story of the Sinclair sisters to new heights of adventure. This story tells of two widows who find new love and new life, but face their fears with God and their loving friends at their side.
This story is well written, intriguing and kept my interest from page one til the end. It is a Christian Fiction novel so there is mention of scripture and faith. It is not "preachy" and is easy and fun to read.
I love all the stories in the Sinclair Sisters of Cripple Creek series, and this one does not disappoint. I can't wait to continue reading and see what happens next with this amazing family.

I received one or more items for this review through the Blogging for Books program for

reviewers

. All my reviews are my honest and personal opinion and are not influenced nor reviewed by the sponsor prior to posting.
If you have any questions or comments, please see my FTC disclosure or Review Policy.