"This article may contain a

book or

product sample and/or links to ot

her

website(s). See my FTC discl

o

sure for more det

ails

."

Topaz Heat by Hallee Bridgeman
~ Book 3 of the Jewel Trilogy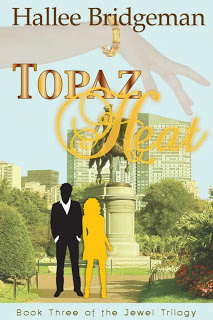 The very moment Derrick meets Sarah, he realizes he has a reason to live. Sarah sees only an unshaven tough kid covered with tattoos and shuts down every advance.
Sarah Thomas has no memory of her broken young life leading up to the tragic murder of her mother. Her memory begins the morning she wakes in the home of her loving adoptive parents. She doesn't even know her sisters exist until her 15th year. She learns to love her siblings, but always feels a little out of place in their presence.
A benevolent billionaire offers Derrick DiNunzio a home and an education. Fresh off the streets and rescued from a criminal future, Derrick sheds his old life. He trades his ripped leather jacket for silk suits; dealing drugs for mentoring "at risk" youth; lock picking and back door jobs for the rigors of mountain climbing and hotel management.
Sarah cannot seem to see beyond the past Derrick left behind … until one day she does. When they finally come together, an indictment threatens their future. Now the heat is on. Will Sarah finally set aside her prejudices and open her heart to true love or will the long forgotten past tear them apart forever?
Link:
http://www.bridgemanfamily.com/hallee/category/books/topaz-heat/
My Review
:
Topaz Heat is book 3 (the final book) in the Jewel Trilogy by author Hallee Bridgeman. The author offered me a chance to review the whole trilogy and host a giveaway as well.
Topaz Heat is Sarah's Story. She is the youngest of the three sisters who were raised by a drug addict mother and her many, many men. She went through some horrible situations before her mother was murdered. She was put into a foster home at the young age of 9 and woke up the next morning with no memory of her childhood.
Her story is one of survival, hope, and a time when her mind has shielded her for many years from the horrors of her childhood. Yet when she meets and in attracted to a young man from the streets, she instantly rejects her attraction and goes to great lengths to hide her feelings behind sarcasm and anger. Their budding relationship is one that kept me reading to the very end. I loved finally getting to read about Sarah and her personal struggles after reading about her big sisters in the previous books. This is a series I plan to keep and reread again very soon!
This book is not for younger readers. There is mention of abuse, rape, drug use, and assault. It is definitely a wonderful, emotional story that will surely tug at your heartstrings.
Read more Reviews:
Sapphire Ice - book 1
Greater Than Rubies - book 1.5
Emerald Fire - book 2
*Now for the FUN - A Giveaway! Author Hallee Bridgeman has provided a FULL set of ebooks OR choice of one of the books in Print to one lucky winner! Ebooks open WW - print book choice open to US. Giveaway will run from May 31st through June 20th. Winner will have 48 hours to reply and claim the prize.

I received one or more items for this review from the sponsor mentioned in the post. All my reviews are my honest and personal opinion and are not influenced nor reviewed by the sponsor prior to posting.
If you have any questions or comments, please see my FTC disclosure or Review Policy.