"This article may contain a

book or

product sample and/or links to ot

her

website(s). See my FTC discl

o

sure for more det

ails

."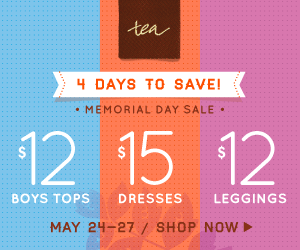 Check out this Absolutely Amazing sale alert from Tea Collection!
Starting today, through Monday, May 27th, Tea Collection is offering $15 Girls Dresses, $12 Girls Leggings and $12 Boys Tops.
Just in time for summer!
Need a few more cute dresses? or tops? Check out this fabulous sale!
Just click the link and you can start stocking up on comfortable and durable tops for boys. Mix and match adorable girls' legging and dresses for endless outfit combinations for those cute little misses in your life.
I am an affiliate for Tea Collection. Any purchase made through the link above May result in a small compensation for me. All $ earned through affiliate links on my blog goes toward giveaway prizes for future

contest
.
If you have any questions or comments, please see my FTC disclosure or Review Policy.