Celebrating May 4th with Mabel's Labels! Mabel's Labels provides labels of all kinds for kids and families. Labels for containers and organization - for kids clothing and personal items - water proof labels, iron on, bookplates, shoe labels

,

adhesives and so much more. All with adorable graphics and styles that make labeling stuff fun and exciting - they even do Fundraisers!
C

heck out their current May special -
The force is strong with this offer

because for one day only, on 5/4, Mabel's Labels is offering 50% off Robot and Rocket Sticky Labels in honor of May the 4th be with you! May 4th celebrates the Star Wars Trilogy

that has entertained thousands of fans from all over the world. Don't miss your chance to shop this great offer!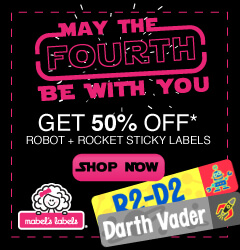 My Review:
I was given a free set of Mabel's Labels to try out. I ordered some personalized labels for my son's "stuff" and also ordered a set of clothing labels for him to use on his clothes for summer camp. I was impressed by the colors and styles offered as well as the different types of labels and all the things they can be used for.
My son loves the bicycle and skateboard graphics on his labels- and was really impressed when he saw the labels I ordered for his camp clothing.
Now my girls both want me to get THEM some Mabel's Labels for their stuff too. I plan to take advantage of this great 50% off sale (my girls do love Star Wars) and get them a set of cute star wars type labels and also let them each pick out a set of girly labels for their stuff too!
I might even get some for my pot luck dishes - Mabel's Labels last much better than a piece of tape with marker on it!

I am a Mabels Labels affiliate. Any purchases through this post, links will give Mom Loves 2 Read a small percentage compen

sation
. I have personally used Mabels Labels and I share only those products that I feel are family friendly and appropriate for my read

ers.

If you have any questions or comments, please see my FTC disclosure or Review Policy.