This week, the
Christian Fiction Blog Alliance
is introducing
A Sky Without Stars
Abingdon Press (February 18, 2014)
by
Linda S. Clare
ABOUT THE BOOK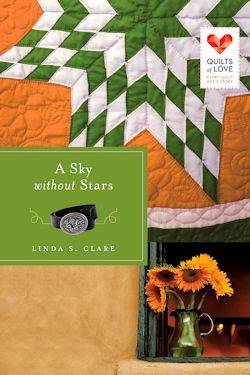 Frankie Chasing Bear is caught between cultures. She wants to raise her son Harold to revere his Lakota heritage, but she also thinks he will need to learn the white man's ways to succeed. After the untimely death of her husband, Frankie joins the U.S. Government's Relocation Program and moves to Arizona. There she begins sewing a Lakota Star pattern quilt for Harold with tribal wisdom sung, sewn, and
prayed into it.
A bed without a quilt is like a sky without stars, but neither the quilt—nor her new life—comes easily to Frankie. Nick Vandergriff, for instance, is the last man Frankie wants to trust. He's half-Lakota but Christian, and Frankie can see no good coming from that faith after her own parents were forced to convert at an Indian school. Can Nick convince Frankie that white men and Christians aren't all bad? And will Frankie learn that love is the most important ingredient—for her son's quilt and life itself?
If you would like to read the first chapter of
A Sky Without Stars
, go
HERE
.
My Review
:
I love clean, wholesome books about the West and Native American heritage. To create such a wonderful story complete with a struggle with the Lakota way of life and Faith in God is an amazing feat. Author Linda S. Clare takes the reader on an emotional journey with Frankie Chasing Bear, her son Harold, and Nick Vandergriff. Frankie's determination to teach her son about his heritage and her reluctance to trust Nick made this story an enjoyable and fast read for me. I loved it from beginning to end. I recommend this book to Christian Fiction lovers, those who enjoy a strong female lead character and those who believe in Faith and Love overcoming difficult obstacles.
ABOUT THE AUTHOR:
Linda S. Clare is an award-winning author and coauthor of several books and has also published many essays, stories, and poems in publications, including
The Christian Reader, The Denver Post
, and
The Philadelphia Inquirer
. Her most recent book is
A Sky without Stars
, the newest release in Abingdon's Quilts of Love line.
Born in Arizona, Linda and her husband now make their home in Eugene, Oregon, where Linda has taught college-level creative writing classes, and writes, edits, and mentors other writers. She also is a frequent writing conference presenter, a church retreat leader, and mom to four grown children and five wayward cats.

Disclosure: I received free the item(s) mentioned in this post in exchange for my honest review. Regardless ~ All my reviews are my honest and personal opinion.
I am disclosing this in accordance with the Federal Trade Commission's 16 CFR, Part 255: "Guides Concerning the Use of Endorsements and Testimonials in Advertising.".