ABOUT LOVE POEMS AND MUSINGS FROM AN 86-YEAR OLD WIDOWER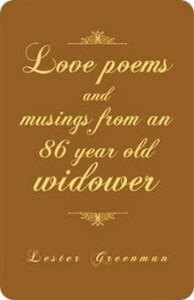 Title:
Love Poems and Musings from an 86 year old Widower
Genre: Inspirational and Personal Growth
Author: Lester Greenman
Publisher: iUniverse
Pages: 102
Language: English
Format: Ebook
This book is written by an eighty six yer old recent widower. The poems and Musings are here to show that age does not diminish love and romance.
Romance

Romance the greatest mental
Gift to mankind.
Yes I said it.
What more wonderful than the
Overwhelming feeling of love.
To be able to be near And to
Smell the scent, to caress the tresses, to
gently hold a hand,
This is rapture at its acme.
When there are times that I Am
Alone without you the seconds
Go painfully slow. To espy you
Again is as if the heavens have
Brought forth the shining sun.
The flowers bloom in all their
Radiance and aromas. To be in love is all. This is a reality made
In heaven.

L.D.G.

Lester David Greenman Born in Brooklyn, N, Y, graduate of East New York Vocational High School. In the merchant marine till the end of World war 2 .Married wife Harriet in 1949. Three children, 6 Grandchildren and two Great-grandchildren. Business man , owned 2 diners then became a builder of homes and commercial real estate. Moved with family to Ottawa, Canada in 1971. my wife passed way in 2012 after 63 years marriage. I now live in a retirement home and am in good health. I have 6 Girlfriends all in pristine friendships. I produce and pay for 2 floor shows a year at my present abode. I enjoy singing and writing. I am now writing a Biography of my father.
Pump Up Your Book and Lester are teaming up to give you a chance to win a $25 Amazon Gift Card!
Terms & Conditions:
By entering the giveaway, you are confirming you are at least 18 years old.
One winner will be chosen via Rafflecopter to receive one $25 Amazon Gift Certificate
This giveaway begins February 3 and ends on February 14.
Winners will be contacted via email on February 15, 2014.
Winner has 48 hours to reply.
Good luck everyone!
ENTER TO WIN!
a Rafflecopter giveaway

Disclosure: I am a review partner with Pump Up Your Book Tours. All materials in the post above were received through the tour from the author.
I am disclosing this in accordance with the Federal Trade Commission's 16 CFR, Part 255: "Guides Concerning the Use of Endorsements and Testimonials in Advertising.".