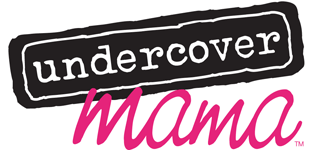 How many times have you seen women struggling to nurse their little bundle of joy while trying hard to maintain her modesty? Some women use blankets or covers of some sort that completely hide baby and keep mommy modest but also lose that face to face opportunity unless mommy puts her head under cover too. Now, with
Undercover Mama
shirts, mommies can get the best of both - modesty and face to face interaction with baby.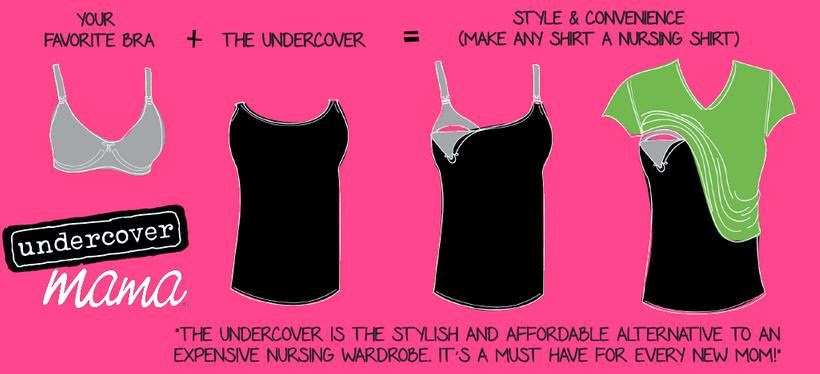 It is easy to use the Undercover Mama tops, simply attach Undercover Mama shirts to the outer flap of a top-opening nursing bra by sliding each hook onto the flap a little below the clasp. Usually it will slide on just below the seam where the bottom of the clasp is sewn to the bra. You want to push enough material into the hook so it is snug. On most bras you can slide the hook clear on so that the entire width is inside the hook, but even if the strap is too wide to fit completely in, it still works just fine. You can also slip the hook of the Undercover Mama on to the strap of your bra instead of the flap. Keep in mind with this option you will need to unhook the Undercover Mama each time you nurse.
Most of my faithful readers know that my kiddos are well past the nursing stage, and I will not be having any more little bundles of Joy of my own, so doing a review would be difficult. So, instead - I asked Undercover Mama if they would consider offering my wonderful readers a giveaway - and of course they said YES!
The entries are simple and easy - and all are optional, but there is a huge bonus for subscribing to the
Undercover Mama Newsletter
~ They have a Giveaway Drawing for a $25 giftcard for anyone who Subscribes! Bonus - 2 giveaways for the "cost" of one entry! Plus, a little insider scoop ~ Undercover Mama will be having a Huge Valentine's Day SALE - check them out online here:
http://undercovermama.com
or keep up with the news via
Newsletter
or
Facebook
.
Open World Wide - winner will receive a $30 voucher to use towards purchase and shipping - must be 18 or older to enter/win. Winner will have 48 hours to reply to winning email - no reply after 48 hours will result in a new winner being chosen. To keep from missing out on prizes, make sure to check your spam mail regularly or return here to this post at the end of the giveaway to see the winner's name.

Disclosure: Mom Loves 2 Read did not received any compensation for this post. Sponsor will send the prizes to the winner.
I am disclosing this in accordance with the Federal Trade Commission's 16 CFR, Part 255: "Guides Concerning the Use of Endorsements and Testimonials in Advertising.".