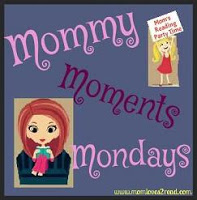 Welcome to Mommy Moments Monday
Link Up
Feb 17th, 2014
Each Monday - Friday on Mom Loves 2 Read
You will be able to stop by and post a link to one of your personal posts about: Parenting, Children, Funny kid moments, Serious parenting issues, Pregnancy stories and more.
This is a fun way to share our special moments with each other!

Sound like fun?
All I ask is:
#1 - leave a comment below this post
#2 - I would appreciate if you would follow me!
#3 - Link Up one of your posts for me to visit!
#4 - Make sure to visit and comment on other posts throughout the week!
Ready? Then link up!

Each week the link up will be open from Sunday 6pm 'through Friday Midnight (cst)
You can post your links during that time, then have the rest of the week to hop around and read all the great Mommy Moments Posts!

Would you like to be a Co-Host? Or like to post this link up on your blog?
Then email Susan ~ MomLoves2Read(at)gmail(dot)com.
I'd love to have you!