Dating, Dining, and Desperation
B&H Books (March 1, 2014)
by
Melody Carlson
ABOUT THE BOOK
Daphne Ballinger has learned to accept her deceased, eccentric aunt's strange request that she marry in order to inherit her estate, along with taking over her aunt's hometown paper's advice column. But knowing and accepting that God's will be done becomes harder when a new neighbor, a divorced socialite, learns of Daphne's predicament and takes on the task of finding her the perfect man, even if it includes speed dating.
When God does open Daphne's heart, it is instead to take in a young girl left parentless and in the care of her dying grandmother. It may be a temporary arrangement until the girl's uncle returns from the Marines, but God uses Daphne to speak His heavenly love and protection into the life of the child -- whom Daphne soon discovers has a very handsome and single uncle.
If you would like to read the first chapter of
Dating, Dining, and Desperation
, go
HERE
.
My Review:
What a fun story. This is the second book in the Dear Daphne series, and though it is fine to read this one as a stand alone story, it does make more sense if you read the series in order - book 1 is Lock, Stock and Over a Barrel.
This story had me laughing, crying and sighing, sometimes all in one chapter. It is full of funny situations, well-meaning match-makers, and some interesting and entertaining happenings between Daphne and a few quirky men she is encouraged to date. The story is written more of a journal style, explaining what is going on in Daphne's life as she tries to fulfill the requirement in her late Aunt Dee's Will.
The returning characters from book 1 are wonderfully interesting and the new characters keep the story flowing and the action going. The story is well written and not confusing, it is easy to read and keep up with everything going on. As for it being a "christian" book. There is no "preaching" in it, it is a good clean read where the heroine does talk to God, attend church, and live out the commandment to love your neighbors.
The author The supporting characters are very interesting with returning characters from the first book as well as introductions of new friends. It is well written and not confusing. There isn't really a main hero - well, kind of and kind of not. You'll have to read it to figure that out.
There is not much religious content, but the heroine does talk to God, attend church, and live out the commandment to love your neighbors. As this is only book 2 of the series, and I believe there are at least 2 more coming out, I will continue reading to see what happens to Daphne! Hope you will join me!
ABOUT THE AUTHOR: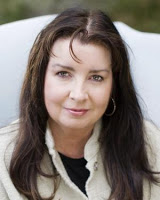 Over the years, Melody Carlson has worn many hats, from pre-school teacher to youth counselor to political activist to senior editor. But most of all, she loves to write! Currently she freelances from her home. In the past eight years, she has published over ninety books for children, teens, and adults--with sales totaling more than two million and many titles appearing on the ECPA Bestsellers List. Several of her books have been finalists for, and winners of, various writing awards.
She has two grown sons and lives in Central Oregon with her husband and chocolate lab retriever. They enjoy skiing, hiking, gardening, camping and biking in the beautiful Cascade Mountains.

Disclosure:
I received Dating, Dining and Desperation by Melody Carlson compliments of Christian Fiction Blog Alliance and B and H Publishers for my honest review. Regardless ~ All my reviews are my honest and personal opinion.
I am disclosing this in accordance with the Federal Trade Commission's 16 CFR, Part 255: "Guides Concerning the Use of Endorsements and Testimonials in Advertising.".