How many of us have trouble sleeping? How many also suffer from neck or back pain that interrupt a good night sleep? Well, if you are anything like me, it is both.
Finding a pillow that supports my head and neck, yet also comforms to the shape of my neck so as to be comfortable rather than hard has been quite a challenge. The pillows I usually use, tend to flatten and get misshaped within a couple of months of use. They start out being too big and bulky, then quickly lose their
firmness and finally are too flat and uncomfortable to help me with a restful night sleep.
I have been using the
Sweet Slumber Pillow
from Reverie for 3 weeks now and I love it. With my husband's allergies I cannot sleep on down pillows, which have been recommended in the past - so finding that
Reverie
has hypoallergenic pillows made from shredded latex/rubber made it a good choice for me to try out for this review. Thankfully, I am not allergic to latex! So, if you are allergic to latex this pillow is not for you, but definitely check out the other great products by Reverie!
The pillow came enclosed in a zippered plastic bag - inside a box, to keep it clean. My first night using it, I noticed a faint smell similar to balloons - lol, not surprising considering the rubber interior! It was not unpleasant and by the second night, I could no longer smell anything.
The pillow was easy to conform to my neck while providing support without being too hard/firm. I was able to rest comfortably each night with little to no neck pain the next morning. This was amazing considering that I normally wake with a bit of pain each day, and usually am restless all night trying to get comfortable.
The
Sweet Slumber Pillow
from Reverie so far is the best pillow I have yet tried. After 3 weeks of use, it is just like new the day it arrived!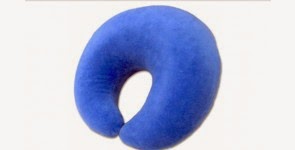 I have since went to the Reverie.com website to look around at all the other products. I would love to try
Mattresses
which sound like they would be perfect for my husband and myself - as well as the Easy-Pack Travel Neck Pillow!
the Customizable Dream Cell Sleep System
To find out more about Reverie Sleep Products, go to their website online at
Reverie.com
~ like them on
Facebook
~ and follow on
twitter

Disclosure: I received free the item(s) mentioned in this post in exchange for my honest review. Regardless ~ All my reviews are my honest and personal opinion.
I am disclosing this in accordance with the Federal Trade Commission's 16 CFR, Part 255: "Guides Concerning the Use of Endorsements and Testimonials in Advertising.".