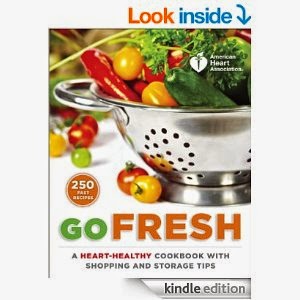 The more you cook at home, with a focus on fresh ingredients, the easier it is to achieve a heart-healthy lifestyle.
Making meals with fresh ingredients is not only healthy and flavorful but also fast and easy with
Go Fresh
. The American Heart Association offers more than 250
recipes in this cookbook, inspiring you to bring nutritious and wholesome ingredients into your kitchen. Enjoy full-flavored favorites—all made from scratch, made healthy, and made fresh—including:
· Cauliflower-Carrot Soup
· Blueberry-Walnut Chicken Salad
· Blackened Fish with Crisp Kale and Creamy Lemon Sauce
· Rosemary-Peach Chicken Kebabs with Orange Glaze
· Tomato-Basil Pork Tenderloin
· Butternut Squash Pasta
· Dark Cherry and Apple Crumble
In the book, you'll also find
Healthy Swaps
for substituting seasonal fruits and vegetables in delicious new ways,
Shop & Store
tips for making the most of your trips to the market and what you buy, and
Tips, Tricks & Timesavers
for reducing prep time and getting meals on the table faster.
My Review:
This cookbook is put out by the American Heart Association for heart healthy cooking as well as shopping and storage tips. The cookbook was full of delicious recipes such as: Chicken and red lentil soup or Triple citrus refreshers. My main problem with the book is that with each recipe there was no picture to give you an idea how the recipe was to look like. Yes there were pictures in the book, but they were all together in the middle of the book and they were not a complete showing of all the recipes. I also liked the idea of the nutritional values per serving listed after each recipe as well as most of the ingredients in the recipes were one that most people would have in their pantry/cabinets in the kitchen or easily available at the grocery store.

Disclosure: I received free the item(s) mentioned in this post in exchange for my honest review. Regardless ~ All my reviews are my honest and personal opinion.
I am disclosing this in accordance with the Federal Trade Commission's 16 CFR, Part 255: "Guides Concerning the Use of Endorsements and Testimonials in Advertising.".