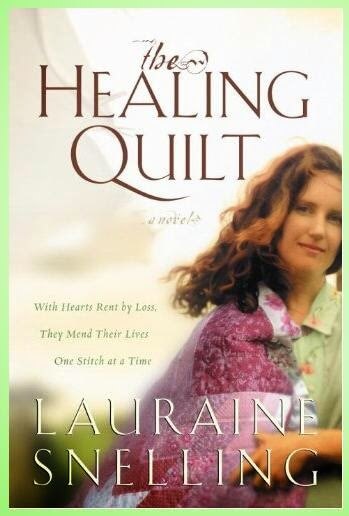 After her Aunt Teza's test results turn out to be inconclusive, Dot Cooper resolves to raise money for a new mammogram machine, through the creation and auction of a magnificent, king-sized quilt to be sewn by the women of Jefferson City.
Dot's efforts quickly draw the support of disparate members of the community, including newcomer Beth Donnelly, married to a local pastor; Elaine Giovanni, the stylish wife of a local surgeon; and an
ailing Aunt Teza. But as the four different generations work the squares of the quilt, they are also confronted with ragged pieces of their own lives.
Though the women could not be more different on the surface, they hold in common quiet suffering triggered by painful circumstances: the death of children, the abandonment of husbands, the loneliness of depression. Yet their struggles will bring them closer together than they ever could have anticipated, and their lives will be dramatically changed, as together they experience the curative powers of
The Healing Quilt.
Review by Sharon
:
This story is about the lives of four women from different walks of lives with different struggles. Through the plan of one in creating a quilt to benefit the raising of money for a new mammogram, these women get together to work on the quilt and in turn the fellowship and sharing of their life concerns becomes a door to spiritual healing and a change in each of their lives for the better for all of them. I would highly recommend this book for anyone that is struggling with any kind of problems and through the leading of the Lord the problems will not seem as impossible as it does. I received this book free from a friend to read.
Available for purchase on Amazon ~
The Healing Quilt

Disclosure: I received free the item(s) mentioned in this post. Regardless ~ All my reviews are my honest and personal opinion.
I am disclosing this in accordance with the Federal Trade Commission's 16 CFR, Part 255: "Guides Concerning the Use of Endorsements and Testimonials in Advertising.".