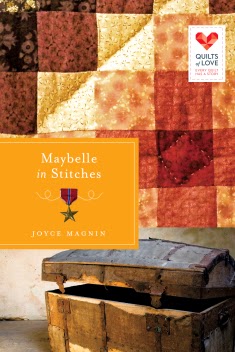 Maybelle can't sew. But when she finds an unfinished quilt in the attic of her mother's house, she gets the crazy idea to complete it. At first, it's just a way to fill the lonely nights while her husband, staff sergeant Holden Kanzinzki, is away fighting in World War II.
Yet when Maybelle discovers that the quilt is made from scraps of material that can be traced back through
her family heritage, the project is suddenly much more important. Then word comes that Holden is missing in action, and with little else to do, Maybelle clings to the quilt as much as to the hope that her husband is still alive.
As neighborhood friends gather around Maybelle to help her through the unknown days and nights ahead, it is the quilt that becomes a symbol of her unflagging belief that Holden will return—to her, to their home, and to their quilt-covered bed.
Review
Maybelle Kazinske and Doris are friends and neighbors as well as co-workers at a shipyard during WWII. Their husband's as well as some of the other workers husbands are away fighting in the war. While they are away, Maybelle and Doris are doing their part by working at the shipyard. One morning Maybelle prepares for work and her dog Bingo is acting strange. When Maybelle goes downstairs for breakfast and does not see her mother, she hears the dog barking upstairs and finds that her mother has passed away.
After the funeral, Maybelle starts to clear out a closet and finds a quilt that is not finished. It has significant importance to her as it traces back through her family heritage. As Maybelle and other neighbors gather around Maybelle to help her through the days ahead without her mother and anxious about Holden, her husband at war, and worried whether her will return, the quilt becomes a way for Maybelle to hold on to the idea of him returning home to her.
This is a wonderful story from beginning to end. It captured this reader's interest and was well written and easy to read. I really enjoyed this book and would love to read more from this author.

Disclosure: I received free the item(s) mentioned in this post in exchange for my honest review. Regardless ~ All my reviews are my honest and personal opinion.
I am disclosing this in accordance with the Federal Trade Commission's 16 CFR, Part 255: "Guides Concerning the Use of Endorsements and Testimonials in Advertising.".