A SEASONED JOURNALIST CHASES DOWN THE BIGGEST STORY IN HISTORY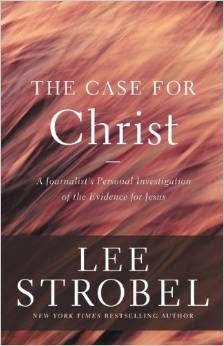 Is there credible evidence that
Jesus of Nazareth really is the Son of God?
Retracing his own spiritual journey from atheism to faith, Lee Strobel, former legal editor of the
Chicago Tribune
, cross-examines a dozen experts with doctorates who are specialists in the areas of old
manuscripts, textual criticism, and biblical studies.
Strobel challenges them with questions like
How reliable is the New Testament?
Does evidence for Jesus exist outside the Bible?
Is there any reason to believe the resurrection was an actual event?
Strobel's tough, point-blank questions make this bestselling book read like a captivating, fast-paced novel. But it's not fiction. It's a riveting quest for the truth about history's most compelling figure.
What will your verdict be in the The Case for Christ?
"Lee Strobel probes with bulldog-like tenacity the evidence for the truth of biblical Christianity."
Bruce M. Metzger
, PhD, Professor of New Testament, Emeritus, Princeton Theological Seminary
Review by Sharon:
I found Lee Strobel's journalistic approach to his search for truth about the history of Christ as well as the truth whether Christ was purely a man or God was thought provoking and insightful. As I read the book I also took the stance as if I had never became a Christian and wanted the facts before believing. The book gave be a better view of the Biblical truth written in it as well as a better understanding of Christ from the writers of the Bible. I would recommend this book to anyone that wants another way to approach the truth of the Bible This book I received free from the Methodist church I am going to as a handout to anyone interested in reading it. I was told it was a deep book, I found it easy to read.
Available on Amazon ~
The Case for Christ: A Journalist's Personal Investigation of the Evidence for Jesus

Disclosure: I received free the item(s) mentioned in this post in exchange for my honest review. Regardless ~ All my reviews are my honest and personal opinion.
I am disclosing this in accordance with the Federal Trade Commission's 16 CFR, Part 255: "Guides Concerning the Use of Endorsements and Testimonials in Advertising.".