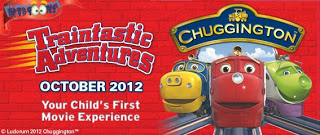 Synopsis
:
Join the Chuggington crew for six fun-filled adventures in Chuggington: Traintastic Adventures! Watch as Brewster tests a speedy new invention, Koko's stunt training saves the day, Wilson gets stuck on the track lift and everybody competes in a big chug-of-war! Young trainees will learn to ride the rails of life alongside their Chuggington pals in this upbeat and fun episodic feature.
The Prize Pack Includes
: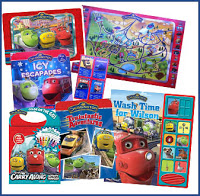 1 Chuggington: Traintastic Adventures DVD
1 Chuggington: Wash Time For Wilson Play-A-Sound Book
1 Chuggington: Wilson and the Paint Wagon Leapfrog Storybook
1Chuggington: Carry Along Activity Traveler Set
1 Chuggington: Placement
1 Chugginton: Trading Card
1 Chuggington: Map
RETAIL VALUE: $45+
*Keep reading for the giveaway*
From now until the end of December, you can download a FREE TICKET for a Kidtoons Matinee! Just click the link to print your
FREE Kidtoons Movie Ticket
! Visit Kidtoons online to find a theater near you. While you're there, make sure you sign up for the Kidtoons Birthday Club to receive a special gift on your birthday and your child's birthday!
You can also bring the Kidtoons fun home with these Chuggington Coloring Sheets
~ just CLICK HERE
!
If you're looking for some family fun this weekend, I highly recommend checking out a Kidtoons matinee! This is a great way to introduce families to a big-screen experience with characters kids love and prices that parents appreciate.

About Kidtoons
:
Since 2004, Kidtoons has been bringing beloved and well-known children's brands and entertainment to cineplexes nationwide. We provide a family friendly, affordable, co-viewing experience that parents can count on each month, year-round to bond and create treasured memories with their kids. Each monthly program is designed for kids 2-8 and their parents.
ENTER HERE FOR THE GIVEAWAY!
Open to US only.
Flash GIveaway runs 10/26 6:00pm CST through 10/30 6:00pm CST.
Loading Entry-Form...
...