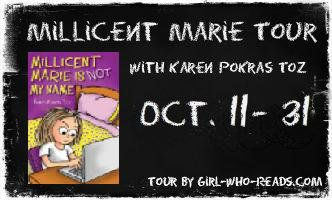 Today is the day - the official launch of
Millicent Marie is NOT my Name
by Karen Pokras Toz! To kick things off you are invited to a
Twitter Party
. Join award winning children's author Karen Pokras Toz at
10 am, 11, am, and Noon
EST and then again at
10 pm, 11 pm, and Midnight
EST for 30 minutes of chatting, fun, and prizes.
The easiest way to join the conversation is with
tweetchat.com
Login with your Twitter account, then enter #MillicentMarie to join the room.
The Twitter Party is just the beginning of the fun. Karen will be on tour for the next 21 days. Check out the full schedule
here
.
And to Start this Party off "Loves 2 Read" style
here is my personal REVIEW of
Millicent Marie Is NOT My Name
Summary
:
Twelve-year-old Millicent Marie does not like her name. After all, she was named for a woman who died more than fifty years ago and was not the most loveable member of the Harris family. Her friends call her Millie, but when she writes in her diary she refers to herself as Amanda – the name she always wished she had.

When Millie's younger brother finds her diary on her computer, he decides to publish it as a blog for the entire world to see, including the boy Millie has a crush on. In the midst of all the mayhem, Millie/Amanda discovers she is suddenly Springside Elementary's most sought after sixth-grade mystery gossip and advice columnist.

But not all is fun and games, as Millie quickly learns, once she realizes feelings are at stake. Nobody, least of all Millie, expects things to turn out as they do in this tale of friendship and respect.
Learn more & get your own copy (ebook and paperback):
My Review :
My son and I have enjoyed author Karen P. Toz's books about Nate. Nate Rocks the World and Nate Rocks the Boat are both books that my son and I really enjoyed reading and reviewing. When I was told that Karen wrote a book for girls, I jumped at the chance to review it.
Millicent Marie hates her name. Not only that, but she is most definitely not popular in school, and would love to be, which is normal for most kids her age. When her little brother posts her diary by making it into a blog, she is of course mad - until she starts getting fan email and realizes that through her diary alias name of Amanda, she can feel popular.
I love how the story shows the normal dynamics of the different cliques in school, and how difficult it can be for those kids who are not popular. I also loved the insight into a few of those "popular" kids' lives depicted in the story. I love how Karen shows that it is possible to overcome the stereotypes set on kids, and how if someone would just show some kindness and honesty, great things can happen. Millicent Marie is able to make some great changes in the heirarchy of her peers and a few things in her school as well, but also comes to see that although the right words can make things better - words can hurt too.
Another amazing book by Karen Pokras Toz, and one I will definitely have my kids read as they get older! Check out Millicent Marie Is NOT My Name for yourself. I recommend it for ages 10 and up!
About Karen Pokras Toz
:
Karen Pokras Toz is a writer, wife and mom. Karen grew up in Connecticut and currently lives outside of Philadelphia with her husband and three children. In June 2011, Karen published her first middle grade children's novel for 7-12 year olds called Nate Rocks the World, which won First Place for Children's Chapter Books and the Grand Prize Overall in the 2012 Purple Dragonfly Book Awards, as well as placing first for a Global E-Book Award for Pre-Teen Literature. In 2012, Karen published the second in the Nate Rocks series, Nate Rocks the Boat, followed by middle grade novel, Millicent Marie Is Not My Name. Karen is a member of the Society of Children's Book Writers & Illustrators (SCBWI).

I received one or more books or products in the post above for review purposes only. I was in no way required to write a positive review. All my reviews are my honest and personal opinion
. If you have any questions or comments, please see my FTC disclosure or Review Policy.