The Weight of Night
The First Book in The Progeny Series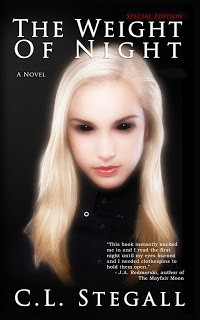 When her mother is taken from her in a terrible accident, Alexis finds herself facing some previously unknown truths. Her best friend, Keats, is her only confidante when she is faced with an apparent stalker who claims that Alexis' entire life is built around a lie. Alexis is suddenly thrown into a whirlwind world of danger and secret agendas, of demigods and deities.

When a brutal, self-righteous god decides that Alexis is his best hope for retrieving an ancient artifact, she finds herself on the self-discovery journey of a lifetime - tracking a killer and a kidnapper - and facing conniving and dangerous foes along the way.

She will have to come to grips with who she truly is and just what she might be capable of if she is to survive long enough to save the one person in the world for whom she cares most.

Ancient Greek mythology comes to life in this unique coming-of-age tale that spans the globe and the heart of a girl who only wants to be normal. But, just what is normal in a world like this?
The Weight of Night Special Edition includes :
The Weight of Night (novel)
Trinkets and Arrows (novelette)
Soldier Boy (short story)
My Review:
The Weight of Night
by author C L Stegall was an adventure in Greek mythology and full of drama in every chapter. I am a big fan of Greek Mythology when written into modern romances and adventures, but have found few books that really merge the modern world with the Greek gods and goddesses well. This was definitely a story well-written, and full of both the bad and good of the Greek gods and goddesses mixed with the wonder of the modern world and modern teenagers. Although The Weight of Night is not what I would call a light read, the story captured my imagination right from the start and kept me up late reading until I finished the last word.
I must confess that I found myself confused at times as to what was going on in the story, but not in a bad way. It was more like I was trying to figure out what was going on, and who was the "bad guy" and who was the "good guy" and found it hard to figure out at times. But not to worry, as I kept reading along my questions were all answered later in the story. I was pleasantly surprised by the end of the book and found myself anxious to read more of this series. I'd love to find out what happens next with Alexis and Keats and their new friends and enemies.
Alexis is a strong female main character, and seems to handle all the chaos thrown at her with a maturity beyond her years. I love her close friendship with Keats, and their unique relationship adds to the story in a way that captured my imagination and kept me reading to see what would happen next with them. Each of the people she meets in her journey add to the story in such a way that I fully expect to see them again in future books in this series. Many are memorable, and I'd love to know more about them.
Due to the content and a few "bad" words in the story, I would recommend this book for ages 15 and up. This is a great book to read for those who enjoy Greek mythology, fantasy, paranormal, YA adventure, or stories with strong characters and constant danger, drama and chaos with a little bit of budding romance thrown in. Overall a great read - see my reviews on Amazon and Goodreads if you are interested in star values.
Author Biography:
C.L. Stegall, co-founder of Dark Red Press, is the author of the Progeny series of novels and shorts – the first of which,

TheWeight Of Night

, was published in January 2011. The second in that series,

Hearts In Aether

, is scheduled for 2013. His next work,

Valence of Infinity

, is scheduled for late 2012. He spends his time writing, herding the cats of DRP and making his Wife, Mona, laugh. He lives in the Dallas area with Mona and two dogs who think they run the joint
.

I received one or more books or products in the post above from the author for review purposes only. I was in no way required to write a positive review. All my reviews are my honest and personal opinion
. If you have any questions or comments, please see my FTC disclosure or Review Policy.