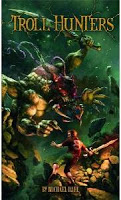 Evil and danger rumbles under the earth. Follow the adventures of a group of contemporary teenagers who discover that their town, and ultimately the entire world, is under attack by fierce creatures from deep beneath the earth. These creatures were known to the earliest humans as trolls or goblins, but they are much more dangerous than their fairy-tale versions. The teens make unlikely allies along the way, including a half-man, half-troll, as well as some legendary constellations that quite literally come to life. The young heroes will also discover their own untapped celestial abilities in an epic battle between good versus evil.

Hocus Pocus Hotel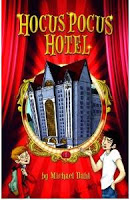 Tyler Yu asked Charlie Hitchcock to meet him after school, and Charlie assumed it was for a fight. But when it turns out Ty just needs help solving a magical mystery at the Abracadabra Hotel, an unlikely friendship is formed.
My Review:
I was given a chance to read both of these books and provide a review on my blog just in time for the spookiest holiday of the year . . .Halloween! Both books are full of thrills, chills and spooky mystery. I thought that both Troll Hunters and Hocus Pocus Hotel were fun and entertaining reads that I would recommend for middle grade to young adult readers. Both boys and girls alike will enjoy the engaging characters, mystery and intriguing plots. The books are both well-written and easy to read. Great books for this fun holiday season or any time of year.
About the author:
Michael Dahl is the author of more than 100 books for children and young adults. Dahl has spoken at numerous schools, libraries, and conferences across the country on graphic novels and books for boys, and has been a featured speaker at ALA, AASL, NYAEC, TLA, NOLA, EncycloMedia and IRA

.
~~ NOW FOR SOME SPOOKY FUN ~~
A Halloween inspired giveaway! That's right - 2 people will have a chance to each win a copy of both books - My dear friend at Media Masters Publicity is providing a set of books, and I am donating my gently read review copies as well - so there will be 2 winners! Easy entries - Contest will only run 3 days so Enter and share the love so your friends and family can enter too!
Loading Entry-Form...
...

I received one or more books or products in the post above for review purposes only. I was in no way required to write a positive review. All my reviews are my honest and personal opinion
. If you have any questions or comments, please see my FTC disclosure or Review Policy.