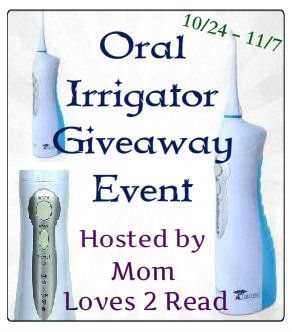 I am participating in the FREE ToiletTree Oral Irrigator giveaway event
One super lucky reader will win a
($39.95 value)
Cost:
Free
with announcement
post or 3.00 without.
Giveaway Open to:
US only.
The event dates:
October 24th-November 7th.
Free Link Option
: Facebook or Twitter
Optional Paid Link Options:
$1.00 for Facebook, Twitter or Pinterest ~ $2.00 for GFC, Linky, Networked Blogs or RSS links
Send all Paypal payments to: Susan @ lovez2read@comcast.net
(* May pay using Amazon $ instead, but must email me first with request)
Host Pages available ~ highest bidders will get host pages
CoHost Spots available ~ $7 (includes backlink on all posts and 1 additional free link of choice from available link options)
Referral Prize ~ 1 extra free link of choice for blogger who refers the most sign ups! AND all paypal refunded (including payment for co-host or host page)
To sign up for this event, fill out the form below!