Four disparate high school seniors come together to compete in their school's battle of the bands. Sharing a love for playing rock and roll, the members name the band "The Stereotypical Freaks" because they feel stereotyped by their classmates - smart kid, geek, star athlete and quiet weirdo… when in fact they know they are much more than those labels that have been placed on them.
When one member reveals life altering news, winning the competition takes on more of a meaning to each member. Scared and angry, upset and yet still with a lot of resolve they set out to win one for the good guys… will they?
"The Stereotypical Freaks" BUY on
Amazon
***Keep reading for a great GIVEAWAY!***

Back Cover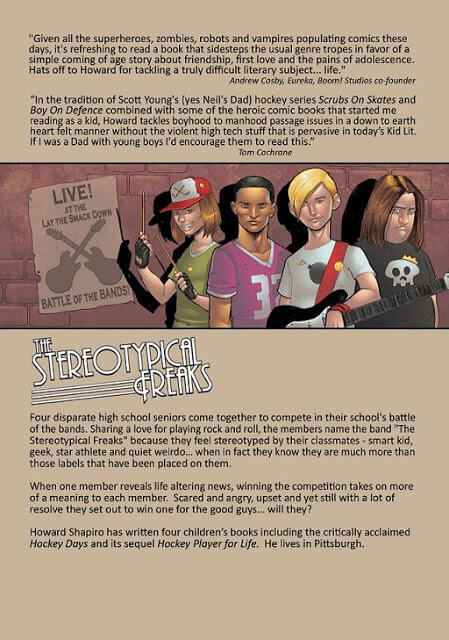 About the Author
:
HOWARD SHAPIRO lives in Pittsburgh, PA with his wife and two sons. The Controller for the Pittsburgh-based Visual Effects firm, Animal Inc., he has also written four children's books and The Stereotypical Freaks will be his debut Graphic Novel.

His 2008 book, Hockey Player for Life, has been the #1 downloaded children's hockey e-book on Amazon's Kindle chart since its arrival as an e-book in November of 2011.

His, Hockey Days book was the only book featured in the December 2007 Sporting News Annual Gift Guide as a Best Buy Gift for Children.

Through a corporate sponsorship program he set up (and maintains), since the 2010-11 season, both of his children's hockey books have been given to NHL teams (over 2,500 copies to date) for use in their community and educational initiatives.

Since 2006 his annual charity raffle, which he matches dollar for dollar donated, has raised funds for several hockey-related charities including the Mario Lemieux Foundation, Hockey Fights Cancer and the Keith and Lisa Primeau Scholarship Fund.
Facebook Page -
http://www.facebook.com/hockeyplayer4life
Twitter -
https://twitter.com/hockeyplayer
Website -
www.howardshapiro.net
Goodreads -
http://www.goodreads.com/author/show/205856.Howard_Shapiro
Prize Package provided by the author includes:
An PRINT copy of "The Stereotypical Freaks"
A Promotional T-shirt
A Limited Edition Poster
Just fill in the entries on the giveaway form to enter:
Loading Entry-Form...
...
Editorial Reviews:
The Stereotypical Freaks is the story of Tom Leonard. He is a regular teenager but thinks of himself as so much less. He can play guitar, but doesn't think he s good enough. He plays hockey, but is not an athlete. He lusts after a girl, but feels there is no chance of her noticing him. None of this makes him a loser, even though he believes the world sees him as such. Funny enough, the most abnormal thing about him is that he comes from two loving parents who are happily married. He has friends both current, old and new that we meet throughout the story. There is Dan Roberts, formerly known as Dan Bob, who rounds out the band. Bass player, slightly overweight, too smart for his own good and full of father issues Dan is a perfect compliment to Tom. Mark, formerly Marcell was best friends with Tom in the pre teen years. Once he discovered sports and girls a split occurred and the wounds have yet to be addressed let alone heal. Jaelithe is the most beautiful girl in school and her introduction is up there with Gwen Stacy and Mary Jane, with Tom as the young tiger who wants to hit the jackpot. Every band needs a drummer and luckily the new foreign exchange student, Jacoby, is a demon on the skins. The cast is assembled. Music becomes the focus of their young drama filled lives. Jaelithe starts dating a guy who has a group and there will be a battle of the bands soon. The only way to get the girl is to beat the guy in the one area Tom feels he is the better. On the stage. All expectations are for the band to practice day and night in hopes that they will win the contest, become high school stars, and Tom will get the girl. But then life changes everything. The heartbreaking twist needs to be discovered on your own. There will be no spoilers within this article. To dance around that though, it is one of the most emotional reading experiences you ll ever have. While reading the book earlier today, I turned the page, saw what was coming and I thought damn you Howard . I knew he was about to break my heart. I knew this isn t a Marvel or DC book in which everything will return to status quo at the end of it. This will be final. There will be no doubt how this tale will end, and it hurts. Don t think that the entire book is a downer though. Through the challenges and tragedies of life every character grows for the better. They all overcome so much. The book starts with children but in the end they are that much closer to adulthood. They have been through an experience that forever changes their lives. Life will still throw much more at these guys over the years. There will be more troubles, but going through a difficulty like this at a young age prepares all of them for anything that may come. I wouldn't feel so wrapped up in this story if it wasn't so well done. The writing is incredible. It has been many years since an adult as written teenagers so naturally. Not one line reads false. Not a single moment comes across as over the top or heavy handed. Every bit of dialogue could be heard in any high school or mall you care to walk into. The art flows so naturally its almost music itself. If there is any complain I could make its about the gorgeous full color cover. I would love to see more posters and prints like that. Whether it be the music that connects these characters, or the words and pictures that connects Howard and Joe and them to me, then to you the reader of this blog art unites us all. Art is there in our best and worst times. Friendships are formed and bonds are forged because of similar artistic passions. The Stereotypical Freaks teach us that life is too short. Too short to fight with anyone. Too short to not make sure every single day is precious. Most of all, too short to not ROCK! -- Kevin Hellions/Team Hellions

Stereotypical Freaks by Howard Shapiro, author of 4 children's books including the critically acclaimed Hockey Days and it's sequel Hockey Player for Life was a truly spot on graphic novel for a nearly 18 year old senior in high schooler such as myself. I don't usually read graphic novels but this book really appealed to my age group where I couldn't help but see amazing parallels to my life. Shapiro did a fantastic job of tackling such a difficult topic to write about...life where I loved every minute of the story. Stereotypical Freaks is about 4 high school seniors who all come together in a band where they share the same kind of music yet they are all different kinds of people; labeled smart kid, geek, star player, and quiet weirdo by their classmates. Naming the band describes them as stereotyped by their peers yet they are incredibly unique and amazing together. Together they join the Battle of the Bands even through a difficult time when one of the band members shares some troubling news and suddenly the Battle means everything to each and every one of them than they could have possibly imagined before. I truly enjoyed this book down to the very last page! As a writer myself I really enjoyed how we get to see into the minds of teenage boys in reality. None of it was mythological or paranormal...it was all real and as a teenage girl myself, it was nice to read inside a boy's head! The characters really grow in this book and you couldn't help but feel all the emotions that they face. What I REALLY ENJOYED in this book was the chapters! There's recommendations for music to listen to while you read the chapters and it's very unique yet enticing. I really enjoy music and listening to music that Shapiro recommends was incredibly new and fantastic! Great job Howard Shapiro! P.S.: Heads up...don't listen to the Hunger Games movie score song called Rue's Farewell during the intense scene at the end of the book...because I did and I cried even more because that scene in the movie was literally JUST AS INTENSE! check out howard's other books at howardshapiro dot net -- Blog of a Future Author: Ashley Bileau

ARC Book Review of The Stereotypical Freaks by Howard Shapiro Review 5***** I was given a copy of this graphic novel by the author for an honest review. This graphic novel follows the story of four teens brought together with their love of music. Their names are Dan, Mark, Jacoby and Tom. They form a band to compete in The Battle Of The Bands. I haven t read many graphic novels before. I have mostly read comics, but reading The Stereotypical Freaks was as heart-warming as it was heart-breaking. The storyline flowed well, and the drawings were executed with precision. Each chapter comes with a recommended playlist, but I didn t need the music to appreciate the story. I congratulate Howard Shapiro on a fantastic tale that touched me deeply. I have no hesitation in recommending this book even if you are not a fan of graphic novels. Lynn Worton --Lynn Worton

I received one or more books or products in the post above for review purposes only. I was in no way required to write a positive review. All my reviews are my honest and personal opinion
. If you have any questions or comments, please see my FTC disclosure or Review Policy.