Alone Yet Not Alone (the book)
Written by: Tracy Leininger Craven
Publisher: Zonderkidz
Paperback: 148 pages
About Alone Yet Not Alone (novelization):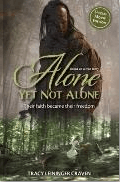 Settled in the Blue Mountains of Pennsylvania, deep within America's new frontier, the Leininger family celebrates the blessings of a beautiful homestead and bountiful harvest. That is, until tragedy strikes with the beginning of the French and Indian War and the devastating raid known as the Penn's Creek Massacre.
The lives of this simple, God-fearing family are forever altered when Barbara and Regina, two young sisters, are carried away by
the Delaware tribe
. Driven by their faith in God and the powerful bonds of family, Barbara and Regina hold firmly to the belief that they are never alone, even in their darkest hour, and that they will be reunited again.
Rich in historical details,
Alone Yet Not Alone
is an inspirational, true story of a family caught in the cross fire of the French and Indian War.
About The Author:
Tracy Leininger Craven loves history and retelling real-life stories in her historical fiction books. She also loves spending her free time in the great outdoors with her husband David and their four children.
My Review:
This book and movie are based on a true story of a family with unshakable faith in God. Through horrific trials, death and separation, the each remain faithful to God and their desire to reunite with the family they have left. After years of living with the native american tribe that she was kidnapped and forced to live in, Barbara finally escapes and seeks freedom, and continues her search for the sisters she feels is still alive somewhere.
This story is heartrending. It is a lesson in true faith. Barbara and Regina help each other cope with the tragedy that is occurring by reminding themselves to keep their faith by never losing the song they were taught as young children, "Alone yet not alone." Singing very softly to her sister, Barbara keeps their focus and faith alive even when her sister is torn from her and sent with a separate band of native americans to live.
I was in tears throughout much of this book. Tears of hurt for young Barbara and Regina, tears of horror at what some of the captives faced, then finally tears of joy at a reunion that was never supposed to happen.
My aunt was visiting the day I received this book in the mail. She looked at it and started reading. She couldn't put it down. She sat and read the whole book in one afternoon and said it was an amazing story.
This is a very moving piece of history, family and faith that now has a prominent place in my bookcase! One I will read again and again. I can't wait to get a chance to see the movie! It comes into theaters on September 27th, 2013.
And remember this incredible historic book is recommended for children ages 8 and up and is a read they are guaranteed to love. It combines great adventure with even greater values - kids won't even realize they are learning about history!
About Alone Yet Not Alone (THE MOVIE):
Now for the FUN - The GIVEAWAY!
One reader will receive a copy of Alone Yet Not Alone the book (novelization).
The same one that I received free for this review.
Open to US and CANADA where allowed by law.
Must be 13 or older with parent's permission to enter.

I received free the item(s) mentioned in this post in exchange for my honest review through FlyBy Promotions. Mom Loves 2 Read is not responsible for prize shipments. Regardless ~ All my reviews are my honest and personal opinion and are not influenced nor reviewed by the sponsor prior to posting.
For more info, see my FTC disclosure or Review Policy.