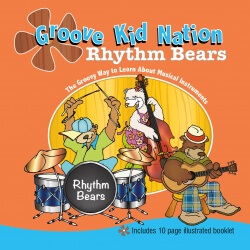 Groove Kid Nation continues its award-winning music education series with a third release
Rhythm Bears
. Producer Rodney Lee once again recruits top L.A. musicians and heads deep into the woods to create a soulful folk hoedown.
As the title suggests,
Rhythm Bears
is all about drawing kids into the music with rhythmic call and response games that will have them clapping, stomping, playing percussion, and vocalizing to the beat.
In addition, a band of groovy bears open childrens' ears to a whole new set of musical instruments including harmonica, fiddle, acoustic guitar, acoustic bass, clarinet, kalimba, ukulele, and even didgeridoo. Each song features a new instrument, and the enclosed 10-page booklet features colorful illustrations of each Rhythm Bear.
My Review :
Oh My! All three of my kids had smiles on their faces when this CD began playing. My oldest said the music was "kinda cool" for a little kid's CD. My two girls loved it and immediately began dancing to the beat of the drums and tempo. My youngest has been listening to it off and on for weeks in her room and often wants it brought into the living room so we can "all dance together" as it plays.
This is a fun and cute set of music for younger children that teaches rhythm, music, and fun through the use of different instruments and musical selections. Not only do the children enjoy listening and dancing along, but parents will enjoy the music right along with their kiddos. I found myself tapping toes, moving feet and dancing along with the kids when this CD was playing. It is definitely worth checking out!
You can find out more at http://groovekidnation.com

I received free the item(s) mentioned in this post in exchange for my honest review using Tomoson.com. Regardless ~ All my reviews are my honest and personal opinion and are not influenced nor reviewed by the sponsor prior to posting.
For more info, see my FTC disclosure or Review Policy.