Simply Snackin®

offers

High protein, low calorie

gourmet dried meat snacks that are great for peopl who are on-the-go and have active, healthy lifestyles. They are healthier alternatives to other meat stick or jerky type snacks. They look similar to jerky, but

Simply Snackin

products deliver an experience unlike any conventional jerky. With bite after bite of moist, lean, savory chicken breast or beef sirloin that is paired with flavorful mangos, apples, blueberries and other artisan ingredients.
About The Products (from their website)
Beef Sirloin Gourmet Dried Meat Snacks
Lean, natural beef sirloin is combined with the finest fruits and spices, then leisurely roasted and lightly smoked to produce an entirely different kind of high protein treat unlike conventional jerky or other meat snacks.
Chicken Breast Gourmet Dried Meat Snacks
A chicken jerky? Sounds impossible, but one bite and you'll believe in this jerky-like meat snack. Tantalizing combinations of chicken breast, spices, fruit and cheese make these slow-roasted, nutritious snacks a taste sensation.
Assorted Gourmet Dried Meat Snacks
If you're not sure which flavor suits you, or if you have several favorite flavor profiles, our snack assortments are your best bet for variety.
Gluten-Free Assorted Gourmet Dried Meat Snacks
Need no-gluten healthy snack options? We offer two gluten-free beef sirloin and two gluten-free chicken breast snacks that are high protein, low calorie solutions!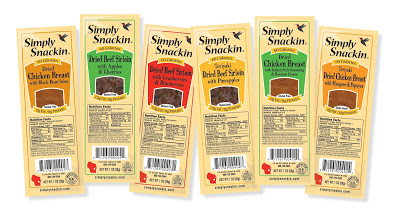 Our Review :
Although a bit reluctant to try these new snacks, my family and a few visiting friends bravely opened their mouths and took small nibbles of a few different flavors of these Simply Snackin

products. The first flavor we opened for this review was the Teryaki Chicken with Mangos and Papayas.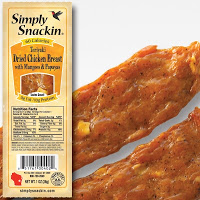 It tasted much better than we anticipated. Each of us had a different reaction - some said there was a slight teryaki flavor, two of the kids thought it tasted like steak, and many of the adults liked the hint of sweetness and how juicy the meat is compared to many jerky type snacks.
We then bravely opened a few more flavors to try all with similar results ~ Chicken with Italian seasonings and Romano cheese has a mild flavor, Chicken with black bean salsa is spicy (too spicy for me, but my son loves it!) - just tastes hot to me.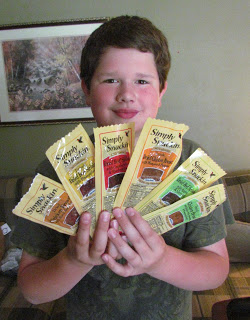 Sirloin with cherries and blueberries is ok, and Sirloin with apples and cherries - and Sirloin with pineapples are both slightly sweet and juicy.
My personal favorites is the Chicken with mangos and papayas. Although these
Simply Snackin
products are not yet available in stores, they can be found and ordered online. They have even more varieties than what I was sent for this review! Even Gluten Free!
These Simply Snackin meat products are great for on-the-go, for work, family trips, school snacks, or just to keep on hand for those hungry-munchy emergencies! To find out more check out their website ~
http://www.simplysnackin.com/

I received free the item(s) mentioned in this post in exchange for my honest review using Tomoson.com. Regardless ~ All my reviews are my honest and personal opinion and are not influenced nor reviewed by the sponsor prior to posting.
For more info, see my FTC disclosure or Review Policy.