About Scar Serum
:
Hypo-allergenic
Organic ingredients
No harmful chemicals or preservatives
The Dr. Max Powers Advanced Scar Therapy was created to promote cell renewal in existing scars while rebuilding collagen. The Scar Serum has also been proven to reduce hyper pigmentation.
The main ingredient of the Scar Serum is organic rosehip oil which has been proven to be effective in the regeneration of skin and provide results in the treatment of burns and scars. It contains rich antioxidants, fatty acids, and Vitamin E which can also help diminish the effects of aging.
Key Benefits
Decrease in scar tissue in 1 month of use
Hypoallergenic with organic ingredients
Vitamins A, B, C and E
Non-irritating; can be used on face
Directions
: Gently rub into scar 3-4 times per day for 8 weeks on new scars; 3-4 times per day for 3-6 months on existing scars.
R
ecommended Usage
: Apply the Scar Serum will avoid the formation of the keloids scars which may appear after surgical procedures, as well as most other common scars, like acne scars.
Social media links
:
http://www.facebook.com/drmaxpowers
http://www.twitter.com/drmaxpowers
https://plus.google.com/u/0/118283837467596581751/posts
My Review
:
My daughter and I both have scars on our foreheads - mine I received as a child so it has been there for a LONG time (not telling how long though - lol). My daughter received hers on the playground this past school-year - and it was our first introduction to stitches!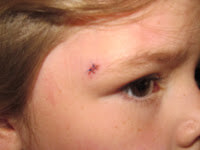 Since then of course the wound has turned into a light scar right at the corner of her eyebrow - not terribly noticable, but we both like putting Scar Serum on it hoping that over time it will fade even more. I like that Scar Serum has natural ingredients and also that it is less expensive that the name brand scar cream in the stores. We haven't had time to use it for the 4 to 6 months recommended so we will keep using it to see what happens over time!

I received free the item(s) mentioned in this post in exchange for my honest review using Tomoson.com. Regardless ~ All my reviews are my honest and personal opinion and are not influenced nor reviewed by the sponsor prior to posting.
For more info, see my FTC disclosure or Review Policy.