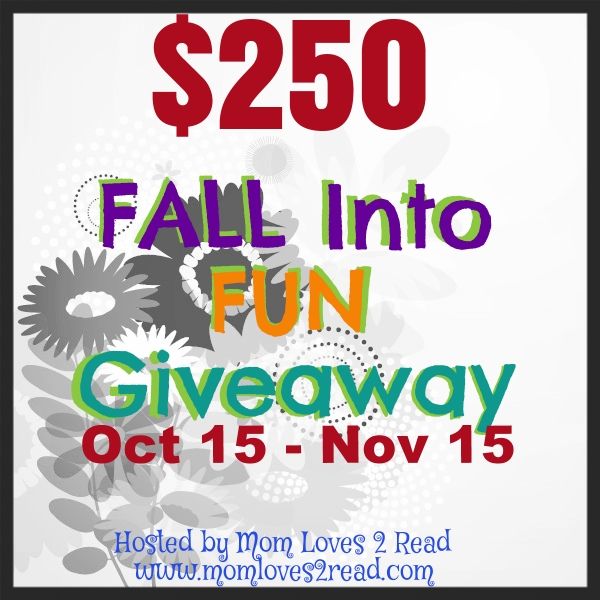 Blogger Sign Ups Are Now Open!
It's time for a huge giveaway! Join Mom Loves 2 Read for this exciting $250 Giveaway event from Ocotber 15 - Nov. 15, 2013.
How to Sign Up
Please read these simple guidelines below and then use the form (link at the bottom of this post) to sign up.

**MUST have a minimum of 1000 facebook/Twitter fans to participate AND must know how to participate in event to Join! Limited to first 100 bloggers only! Max 2 blogs per person/blogger
It is NOT Mandatory to post an announcement but is great if you are trying for a referral prize!
* Links are $3 each - only these links are allowed: Facebook, Twitter, Pinterest, Bloglovin, RSS, email/newsletter, Networked Blogs, Linked In or Instagram (no Google+)
Links will be added to the giveaway form based on first come - early sign ups will get top spots!
Other options:
* $5 for daily comment on your blog or daily votes
* $10 each for affiliate links (example: sverve, swagbucks, zulily, etc)
- max 2 per blogger

(all fees paid will be used for the prize - if we get over $250, additional prizes and more blogger bonuses will be offered)
Even More ways to join!
*Daily Bonus Word Page is available for $10 (only 1 available - must email me at Mom

Loves2Read@itv-3.com

to ask for it before filling out the form!
)
*Host Pages are available for $15 each and include your first link FREE - limited number available - first come first serve - lol
**Co-Host spots (4 available) are $25 each and include 3 FREE social media links (daily votes/comments/affiliate not included)

added to top of giveaway form or first link page

, backlinks on all participating blogs, plus a host page
BLogger Rewards:
To make it even MORE FUN for participation bloggers - Mom Loves 2 Read is offering a bonus host page and 1 additional link as a referral prize for the

3 TOP bloggers who refer the MOST new sign ups

! YES, 3 bloggers will get bonus Host Pages AND more links just for promoting this event!
The post HTML, pictures and GiveawayTools form will be emailed to you several days before the giveaway event begins from me: momloves2read@itv-3.com.
All you have to do is copy, paste, and schedule it to post on your blog. Super easy! Posting on your blog is mandatory! Make sure it doesn't go to your spam folders! Make sure you can receive emails from me -
The event will run from

October 15th through November 15th

.

Participating bloggers ARE permitted to enter the giveaway!
Participating bloggers will be asked to promote the giveaway at least 1 time daily on at least 1 social media during the course of the event.
A few ways to promote are on facebook, facebook groups, giveaway link ups, twitter, google+, linkedIn, pinterest, instagram, and so much more! Since this is a group event, everyone has to do their part for it to work!
Payment information ~ Fees may be paid via Paypal or Amazon.com egiftcodes sent to MomLoves2Read@itv-3.com If paying with Paypal - YOU are required to pay all paypal fees yourself otherwise you will not be paying the full fee for this event -if you have existing funds in your paypal account, or a verified bank account - use the "gift" option for no fees (i think). Otherwise you may choose to send Amazon.com egiftcodes and then no extra fees are required.
Ready to participate? Then
SIGN UP HERE
!