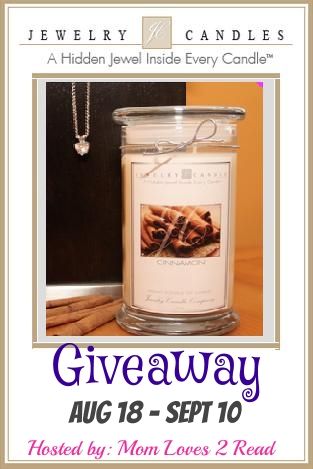 Welcome to the Jewelry Candle Giveaway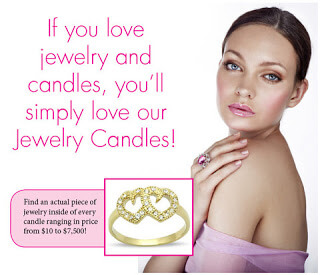 This time we are giving away a Jewelry Candle and a bag of Jewelry Tarts to 2 lucky winners!
One winner will receive 1 jewelry candle in his/her scent of choice - and the second winner will receive 1 bag of jewelry tarts in his/her scent of choice!
AND each candle/tarts includes an item of Jewelry hidden inside worth anywhere from $10 up to $7500!!! Can you imagine the suprise on a loved ones' face if she pulls out a ring or necklace worth $1000 or more.
I personally love candles. I have them in nearly every room of my house!
My children have also started asking to have candles in each of their rooms too. I enjoy the flame, the scent (usually) and the feeling of home they represent to me. Having a candle burning is calming, soothing, relaxing and enjoyable. Now, throw in a bit of bling and the expectation of a fun surprise and you've doubled not only my personal enjoyment but the fun extends to my children as well!
Here is your chance to try out a fun blingy candle too!
A Hidden Jewel Inside Every Candle & Tart pkg!
Giveaway will start
August 18 12:

0

0 am CST and ends September 10th 11:59pm
CST.
Open to US only please - must be 18 or older to win.
Void where prohibited.

Easy to enter - simply fill out any of the entries on the provided form - the more entries you complete the greater your chances of winning - winners are chosen at random from all validated entries - any invalid entries are removed prior to winner's random selection. Winners will have only 48 hours to reply and claim prize, if no reply another will be selected.
Entry
-Form
Sponsor ~ JewelryCandles.com is responsible for sending prizes, prizes often take up to 6 weeks from validation to receive. Mom Loves 2 Read is not responsible for prizes! Mom Loves 2 Read did receive compensation for this event. Regardless this sponsor is personally promoted by choice. A personal review of the product will be coming soon.