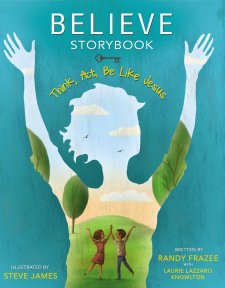 Presented by bestselling author and pastor Randy Frazee, the Believe Storybook shows children how they can think, act, and be more like Jesus. With 60 old and new testament stories from the Bible that showcase the themes, combined with captivating and dramatic illustrations by Steve Adams, children and adults alike will be inspired to become more like their savior and the person they were meant to be.
The Believe Storybook is part of the national church-wide program led by bestselling author Randy Frazee that shows
children how they can think, act, and be more like Jesus.
Randy Frazee is the senior minister at Oak Hills Church in San Antonio, Texas. Oak Hills is one of the largest churches in America, where Randy teaches and leads in partnership with pastor and author Max Lucado. An emerging leader and innovator in spiritual formation and biblical community, Randy is the architect of The Story church engagement campaign. He is the author of The Heart of The Story, The Connecting Church 2.0, The Christian Life Profile Assessment, and coauthored Real Simplicity with his wife Rozanne.


Review
:
The Believe Storybook is not only a book of children's Bible stories, but explains more about the stories and why they are important to our lives. It teaches children more about their personal faith and how to keep growing and knowing God. Reading along with the child helps the adult see how to explain things to the child that may sometimes even be difficult for the adult to understand.
With wonderful colorful illustrations and explanations of each story, it is a wonderful and compelling book that is a must read for children of faith and their parents as well! Great for parents, grandparents, aunts & uncles to read along with the child or for a child to read alone.
Highly recommended for ages 3/4 through 8.

Disclosure: I received free the item(s) mentioned in this post in exchange for my honest review. Regardless ~ All my reviews are my honest and personal opinion.
I am disclosing this in accordance with the Federal Trade Commission's 16 CFR, Part 255: "Guides Concerning the Use of Endorsements and Testimonials in Advertising.".