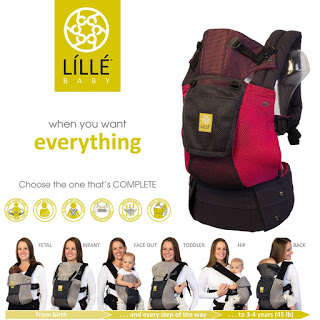 The LÍLLÉbaby COMPLETE baby carriers combines more carrying positions, lasts longer, and includes more features than any other baby carrier. The All Seasons line features an adjustable center panel: zip up for warmth and zip down to reveal cool, breathable, 3D mesh.
1. SIX ERGONOMIC CARRYING POSITIONS

– Includes every carrying position without the need for an infant insert: Front-fetal, Front-infant, Front-outward, Front- toddler, Hip and Back carry.
The COMPLETE grows with your child through
all the baby wearing years, from 7 lbs to 45 lbs.
The patented cupped seat adjusts to keep baby ergonomically seated in all six carry positions through every development stage.
2. LUMBAR SUPPORT

– Increases comfort, maintains healthy posture and alignment, and prevents lower back strain. Combined with an extra sturdy waist belt to maximize parent's comfort. 

3. TWO-WAY STRAP

NEW!

– Enable wearer to carry "backpack style" or with straps crossed in the back. Dual adjustment buckles simplify breastfeeding and adjusting straps on the go.

4. SLEEPING HOOD

– Features dual adjustment points to provide tailored support for baby's head while sleeping, sun protection while exploring, and privacy while nursing. Removable.
5. EXTRA TALL, EXTENDABLE TORSO

– So comfortable your baby will fall asleep. Provides extra neck and back support and keeps taller babies secure in the carrier. The adjustable width gently cradles baby's head. Elastic straps provide support while allowing for movement and easy adjustment.
6. POCKETS

- Zippered cargo pockets on the panel for easy storage of essentials.
7. WIDE, PADDED SHOULDER STRAPS & WAIST BELT

- Evenly distribute baby's
weight for maximized comfort.

Product Review :
The best part of the carrier is the lumbar support. After using other brands of baby Carriers such as Baby Bjorn and a Boba Wrap, I feel that the Lille provided twice as much support to my lower back compared to other brands. As someone who has struggled with back problems on and off, I would HIGHLY recommend this product to a mom who wants to "baby wear" but is afraid it will be to
taxing on her back.
Also, I like that this carrier can go up to 45lbs. I intend to baby wear for sometime, and this carrier would last much longer than the Bjorn or Boba in that department. In this way I can continue to carry baby up through early toddler years and still have the comfort and support that I have now with my little one.
It took me a LONG time figure out how to comfortably wear this carrier. There are many adjustable straps - which I assume would be helpful as baby grows - but initially it took a lot of adjusting and readjusting to make it comfortable for me and for the baby. After 4 tries I started to feel comfortable sitting this on by myself, but before then I needed help as the carrier hooks in the back by your neck and it was tricky at first. Also, it took a bit of time to adjust the seat width setting - and it is essential for you to do this in order for your baby not to be miserable. The Bjorn and Boba are heads and shoulders above LILLE in terms of simplicity of design and user friendliness. I still have not figured out the Side position, and I don't have enough guts to try the back-pack position. But I have no doubt that with enough practice these too could prove comfortable for mom and baby.
For Baby ~ The Good and the Bad
:
Once all the adjustments were made my baby seemed pretty comfortable. Baby sat forward facing comfortably and also really seemed comfortable facing in. In terms of comfort I would say the Lille is pretty good. If you are carrying your baby for long stretches of time I would recommend this over the Boba or Bjorn. I think it is more comfortable for both baby and mommy. Also the fabric is fairly breathable which helped for Baby not to get too warm while in the carrier, which can be a problem with the Boba.
Overall opinion
:
I would say that overall, the

LÍLLÉbaby COMPLETE baby carrier is heads and tails above the rest. For quality, comfort, and length of use (can continue as baby grows) it would be my first choice of carrier. For ease of use, it takes quite a bit of practice and figuring out before I felt comfortable doing it on my own. A great product and one that I highly recommend to anyone wanting to baby wear!
*A special thank you to my friend Jenn and her sweet baby girl for reviewing this product for me and for her thorough review*
To see a selection of colors/styles or to purchase:
visit their website at:
http://lillebaby.com/baby-carriers/completetm
Can also be purchased on
Amazon.com

Disclosure: I received free the item(s) mentioned in this post in exchange for my honest review
. Regardless ~ All my reviews are my honest and personal opinion.
I am disclosing this in accordance with the Federal Trade Commission's 16 CFR, Part 255: "Guides Concerning the Use of Endorsements and Testimonials in Advertising.".