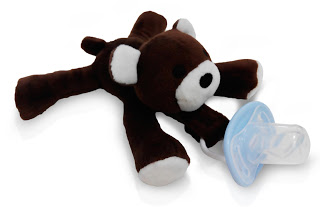 Cotton plush colorful Panda CuddlyPal pacifier holder is perfect for babies & toddlers up to 24 months as the pacifier can be changed to meet your baby's development needs. Detach to add your baby's favorite pacifier or to ensure easy cleaning & sterilizing.
Designed to keep the pacifier close to your baby without using cords or strings. Prevents the pacifier from being lost, dropped or forgotten.
Innovative design pacifier holder comes with a baby-safe velcro strap that
allows the pacifier to be detached from the plush toy for easy cleaning, sterilizing or replacement.
Soft cotton plush toy is perfectly safe as it meets CE standards & EU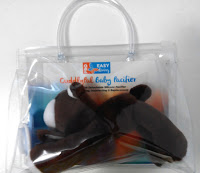 safety, health & environmental requirements, European Toy Safety Directive & British Standards EN71.
Pacifier holder comes with a complimentary BPA free pacifier made of medical grade silicone - perfect for latex allergy sufferers. Product comes with full eco friendly care instructions.
Self-sealed, high quality package perfect for baby showers gifting. No cheap bags!
Review by Jenn :
What do I think about this product? I think it is AWESOME! My 6 month old immediately started holding, and playing with it. I Love that you can detach the paci and trade it out for a different one if needed (my baby is kinda picky with pacifiers.) Her eyes literally lit up whenever I gave it to her, and the plush toy is the perfect size for a 6 month old.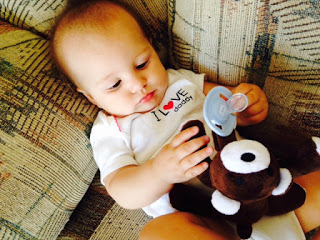 Review by Susan
:
The velcro holds the pacifiers safe and secure while giving baby a stuffed cuddly friend to hold on to and play with. I love that it keeps the pacifier from being dropped and lost, and also keeps baby engaged and interested with this cute Panda Pal.
What a wonderful idea! I wish I had thought of it! No more strings or ribbons that can get tangled in baby's fingers or dropped and lost. Now with this cute PANDA Cuddly Pal we always know where paci is! And, it is very easy to change out to a different paci so the old one can be cleaned!
Even better is that these Cuddly Pals can hold teething toys as well as Pacifiers and as baby grows (even beyond age 24 mos), it can still be a great lovable cuddle toy to play with.
Another great feature is that there are more fun Cuddle Pals to choose from. The adorable DEER and the Cuddly CATERPILLAR. These would make super fun gifts for baby shower, baby/toddler birthdays, stocking stuffers and just because!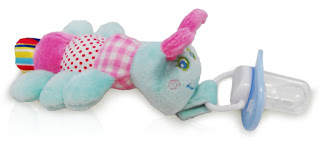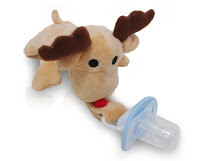 You can find these great gifts on
Amazon.com
and currently they are even on sale!

Disclosure: I received free the item(s) mentioned in this post in exchange for my honest review. Regardless ~ All my reviews are my honest and personal opinion
.
I am disclosing this in accordance with the Federal Trade Commission's 16 CFR, Part 255: "Guides Concerning the Use of Endorsements and Testimonials in Advertising.".