Review
:
My husband started running a little over a year ago. Since then he has lost a considerable amount of weight and feels and looks healthier than he has ever been. Unfortunately with running, he often sweats a LOT and complains of foot pain.
When I was offered a chance to review the new athletic socks for men and women from Fuego, I thought it was the perfect chance for him to try something that might help with his running issues.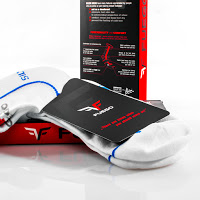 The Fuego Athletic Socks are made to be unisex so that men and women can wear them. They contour to the wearer's feet and have "silver content" within that keeps the feet dry. My husband said that at first they were a bit too loose (he likes his socks very snug) but
after a few washings, they fit him "just right" and now he absolutely loves them.
While running outside, he mentioned that they kept his feet dry and felt good while running. He said they are better than any other socks he has tried. We have the white pair and the black pair and they both are great.
Another thing he likes is that they stay in place. Often socks will slip down as he is moving, but these do not. The elastic in the ankle keeps the socks from slipping.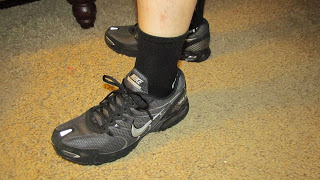 As for sizing, the Fuego Athletic socks have a size chart that I feel is true to size. If you like your socks snug, order the correct size and wash them a couple times before wearing. If you prefer them loose, I would suggest either correct size or possibly the next size up.
Overall, the Fuego Athletic socks are good quality athletic socks and I feel they are a great buy for those looking for a special sock for athletics, running/walking/biking, daily exercise or any time. Just make sure you check the fit and realize these are not basic socks but specialty ones geared for athletic use.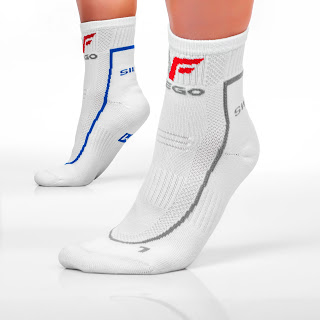 About the Product :
The new company Fuego has entered few months ago the American market with the highest quality athletic socks.
The product we've introduced is addressing the most common problems people are experiencing while wearing the socks.
Our socks
have silver content
which
eliminates feet odor, conduct sweat and keep feet dry.
Seamless toe
closure secures maximum softness and eliminates abrasion.
Due to
"Y" shaped deep heel
pocket and elastic bands the socks
do not slide down.
There are many other features which were already appreciated by the number of people who became our customers.
* You can purchase
Fuego Socks
on Amazon in both
Black
and
White
.
Ready for the FUN!?! Fuego has generously offered a giveaway of one pair of black and one of white socks to two of Mom Loves 2 Read's faithful readers. Just enter using the Giveawaytools form below - usual rules: must be 18 or older to enter/win. US only.

Disclosure: I received free the item(s) mentioned in this post in exchange for my honest review
. Regardless ~ All my reviews are my honest and personal opinion.
I am disclosing this in accordance with the Federal Trade Commission's 16 CFR, Part 255: "Guides Concerning the Use of Endorsements and Testimonials in Advertising.".