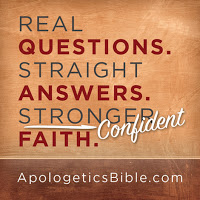 As a Christian Mom of three growing kids, I often find myself praying that not only with all of my children have a strong faith of their own as they grow, but that they will take the moral and biblical values that we as parents have tried to teach them, into the world with them.
My son will be 14 this week, he is in 8th grade and from a young age (2nd grade) has had all manner of worldly influence from his peers come at him that has at times been difficult for him to overcome on his own.
I have researched different types of Bibles and Study Guides to find resources that will help me teach him the necessity of keeping in touch with God, growing in his Faith and choosing to do what is right, good, honest and pure in a world filled with bad choices and peer pressure.
The
Apologetics Study Bible for Students is a wonderful resource for him to use from now through College years and even beyond to help guide him as he grows physically, mentally and spiritually.
He and I have both enjoyed reading the personal stories included in this indexed Bible. "Danny's Struggle" (page 777) was one that he and I read together and were able to have a great conversation about what the Bible says and how to research for himself any questions he might have.
The video series that is also available featuring Sean McDowel have been an amazing way for he and I (and his father too) to spend time together watching then discussing what he learns or "gets" from the video series.
I personally love that as a High School Student my grandmother got me a book series by Josh McDowel that I still remember lessons from to this day. Now my son gets the same type of benefit from the McDowel family with the video series by Sean McDowel. I have loved sharing that I feel I am passing on my experience to my son and we are able to connect in a unique way through this resource material. We plan to continue the series and hopefully will be able to share it with my daughters soon as well.
This Mom and Reviewer highly recommends both the Apologetics Study Bible for Students AND the Confident Faith Video series with Sean McDowel.
The Apologetics Study Bible for Students anchors younger Christians in the truths of Scripture by equipping them with thoughtful and practical responses for whenever the core issues of their faith and life are challenged.

Multiple research studies have shown that spiritual focus often weakens among teenagers as they head into the attention-dividing realm of young adulthood. Up to 66 percent of them leave church altogether. The Apologetics Study Bible for Students works against that trend by helping this audience begin to better articulate its beliefs. In addition to the complete HCSB text and dozens of articles collected from today's most popular youth leaders, including editor Sean McDowell, this new study Bible also includes:
Two-color design-intensive layout on every page for the visual generation

Sixty "Twisted Scriptures" explanations, fifty "Bones & Dirt" entries (archaeology meets apologetics)

Fifty "Notable Quotes", twenty-five "Tactics" against common anti-Christian arguments

Twenty "Personal Stories" of how God has worked in real lives

Twenty "Top Five" lists to help remember key apologetics topics
Also, this summer, the gift of Confident Faith is being celebrated with 16 brand new, but energetic and brief videos featuring Sean McDowell, free resources like Bible studies and articles as well as wonderful specials on apps and Bibles. There are new resources every week - a full 16 weeks of resources when it is all done.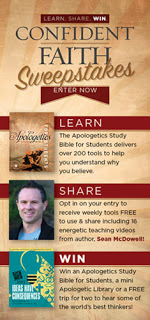 AND, if that weren't enough, a Confident Faith Sweepstakes is being offered to give away Bibles, free mini libraries of B&H's best apologetics resources and even a trip for two to the National Conference on Christian Apologetics (NCCA) being held October 16-17, 2015 in Charlotte, NC where some of the world's leading thinkers will offer insights and teaching.
Now here is YOUR chance to WIN a FREE Apologetics Student Bible with free video resources! Enter below!

"Disclosure (in accordance with the FTC's 16 CFR, Part 255: "Guides Concerning the Use of Endorsements and Testimonials in Advertising"): Many thanks to Propeller Consulting, LLC for providing this prize for the giveaway. Choice of winners and opinions are 100% my own and NOT influenced by monetary compensation. I did receive a sample of the product in exchange for this review and post.
Only one entrant per mailing address, per giveaway. I
f you have won a prize from our sponsor Propeller / FlyBy Promotions in the last 30 days, you are not eligible to win.
If you have won the same prize on another blog, you are not eligible to win it again. Winner is subject to eligibility verification."