What do your kids do when it is too dark to ride their bikes in the evening? Do they whine? fuss? throw a fit? I know I do (LOL) Now they can ride a LITTLE longer with Longer Lasting Rim Lights - plus they just look so darn cool!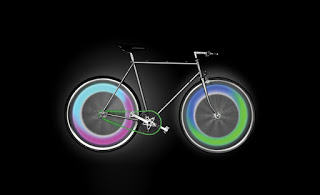 Light up your bike at night with the Speed Racer rim lights - Choose from three different styles

Motion sensor LED technology ensures durability along with 50,000 hours of lifetime

Package includes A 3 pack of 2 x green 2 x blue 2 x colorful LED Valve Bike Lights

Speed Racer is rust resistant, 1100% waterproof and usable through any terrain.
Review
:
I would definitely NOT use these as Safety Lights but as an added fun feature on a child (or adult) bike. And yes, they CAN even be used on cars and trucks for all you Big Kids!
These "Longest Lasting Super Bright Rim Lights" as the description states, arrived in a package of 6. 2 of each color ~ 2 flashing different colors, 2 blue and 2 green. I was planning to put them on my bike and ride it fast to see if it would look anything like the photo above that is with the product information but my girls vetoed that idea right away. They both wanted to be the ones to try out these cool new lights, so of course being the Perfect SuperMom that I am (NOT!) I told them that the could (basically I didn't have anyone to work the camera if I rode - LOL)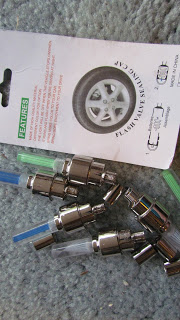 Unfortunately that was around 5pm and not nearly dark enough that the lights could be seen so we had to wait for . . . ev. . . .er for it to be somewhat dark enough for the video. Let me know what you think -
Video after being put on the tire - doesn't take much movement for them to start working:
10 yr old sister's video
:
Now, they were easy to put on, and easy to get off - though I recommend some caution as the parts are mostly plastic. Don't turn to forcefully they could break - just a warning, it did not happen with us.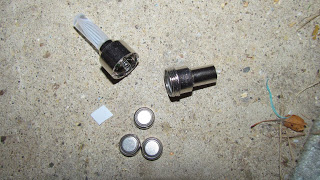 The one thing I don't like is the type of batteries. Yes, I know - what else would fit that small of a space but button cell batteries - but they are expensive to replace! I would say for
$13.95 on Amazon
, when the batteries do die, it would be
cheaper
less expensive to replace the lights than to purchase new batteries - each light takes 3 button cells. BUT, the description says they should last 50,000 hours so that means I should basically NEVER have to replace them . . . .in theory.
Overall they are cute and fun to use, but unless you are a speed demon, they won't look like the picture of the whole inner tire turning colors - but they will look cool and get you noticed!

Disclosure: I received free the item(s) mentioned in this post in exchange for my honest review. Regardless ~ All my reviews are my honest and personal opinion
.
I am disclosing this in accordance with the Federal Trade Commission's 16 CFR, Part 255: "Guides Concerning the Use of Endorsements and Testimonials in Advertising.".