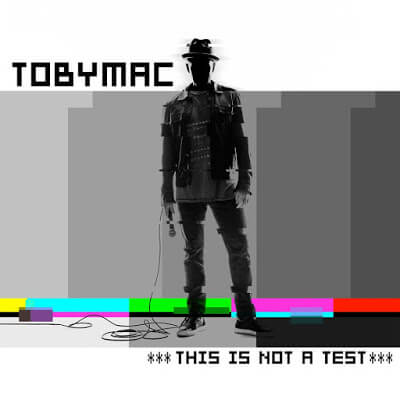 REVIEW :
Christian Music has such an amazing variety of songs, singers, genres and styles that there is something for every music lover to listen to and love. With Music lovers in my home, our local Christian Radio Station is on every time we are in the car, doing housework or homework or listening
to our iPods or CDs.
What I love most about TobyMac's style of music is that it is always upbeat and easy to listen to while doing housework or driving in the car. It keeps my spirit uplifted and keeps my feet moving.
Jamming to the tunes of Toby Mac on my ipod sure makes walking on the treadmill less of a chore and more fun. With new songs, great music and amazing lyrics TobyMac has been thrilling audiences and fans for the past several years and he is not slowing down. His newest CD coming out August 7th is "This Is Not A Test" and it most definitely does not disappoint. Highly recommended by this reviewer, Mom and Music Lover!

About TOBYMAC:
Toby McKeehan (known professionally as TobyMac) is a husband, father, performer, songwriter, producer, and businessman. Growing up in the northern Virginia suburbs adjacent to Washington D.C. helped instill his love for rap music. While attending Liberty University during the mid 80s, Toby met Michael Tait and Kevin Max Smith and these three friends formed the Grammy winning, platinum selling group dc Talk.
Toby began his solo career in 1999 with his first solo album, Momentum, releasing in 2001. Momentum has been followed by four additional studio albums, Welcome to Diverse City (2004), Portable Sounds (2007), Tonight(2010), and Eye On It (2012), along with his first live album, Alive and Transported (2008).
This Is Not A Test is his 6th studio album to be released. Starting with dc Talk, and then going solo when the group disbanded, Toby still clings to such rootsy notions as hard work, persistence, patience, and - perhaps most relevant of all - the power of music, which he insists is still what keeps him going. "It's the truth," he says. "I still believe that a song can penetrate a heart. I believe God can use a song to open someone's mind and heart."
ALBUM RELEASE DATE: AUGUST 7th!
This Is Not A Test (Deluxe Edition) Contains 4 bonus Songs so you get 15 great songs in all!
1. Like a Match
2. Backseat Driver (featuring Hollyn & TRU)
3. This Is Not a Test (featuring Capital Kings)
4. Lights Shine Bright (featuring Hollyn)
5. Til the Day I Die (featuring NF)
6. Feel It (featuring Mr. Talkbox)
7. Move (Keep Walkin')
8. Love Broke Thru
9. Beyond Me
10. Love Feels Like (featuring dc Talk)
11. Undeniable
12. Lift You Up (featuring Ryan Stevenson)
13. Fall
14. Beyond Me (Phenomenon Remix)
15. Like a Match (Garcia's Remix)
::::::::::::::::::::::
S O C I A L • C O R N E R
YOUTUBE CHANNEL - Includes a 3 part video series for the song Feel It (see link on the Feel It giveaway below)
iTunes
- HUGE DEAL! If fans pre-order the album here on iTunes, they will receive 4 songs instantly.
FEEL IT GIVEAWAY
(Feel It will be the 2nd single released from the new album.)

Enter below for YOUR chance to WIN a copy of Toby Mac's Newest Album "This Is Not A Test"
Must be 18 or older to enter/win - US/CAN only please - void where prohibited. Due to contest deadlines, winner will have only 24 hours to reply to email to claim prize.

"Disclosure (in accordance with the FTC's 16 CFR, Part 255: "Guides Concerning the Use of Endorsements and Testimonials in Advertising"): Many thanks to Propeller Consulting, LLC for providing this prize for the giveaway. Choice of winners and opinions are 100% my own and NOT influenced by monetary compensation. I did receive a sample of the product in exchange for this review and post.
Only one entrant per mailing address, per giveaway.
If you have won a prize from our sponsor Propeller / FlyBy Promotions in the last 30 days, you are not eligible to win. Or if you have won the same prize on another blog, you are not eligible to win it again. Winner is subject to eligibility verification."