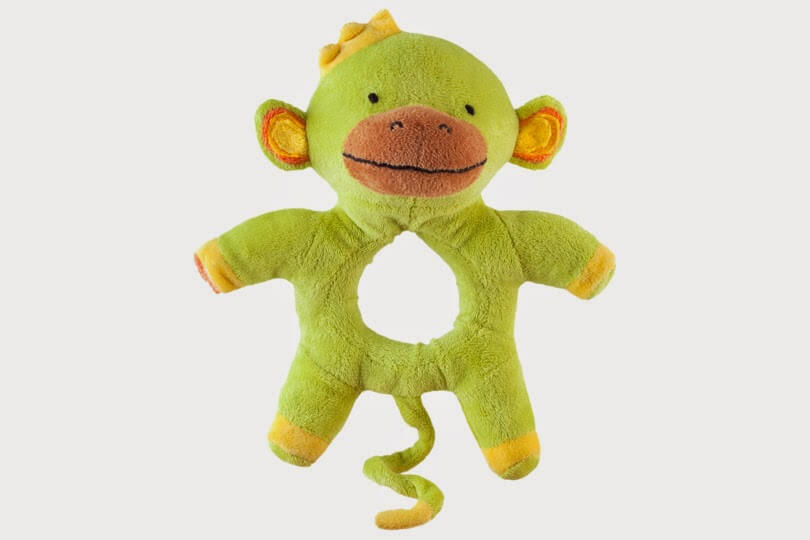 CHIMPANCHEEZ™ has one simple goal in mind: Bringing smiles to children's faces. The plush green monkey will captivate your little ones when its time for that perfect smile!
Hopr, an award winning design studio based in New York City, designed and developed the world of
CHIMPANCHEEZ™! Hopr, LLC is proud to be partnering with Smile Train, the world's largest cleft lip and cleft palate charity.
CHIMPANCHEEZ™ will bring smiles to children's faces and partnering with an organization that brings smiles to so many children around the world who weren't smiling, is something our company is extremely proud to be a part of. For every CHIMPANCHEEZ™ purchased, $1.00 will be donated to Smile Train.

My Review
:
What a wonderful invention - finally someone came up with a fun and fanciful way to utilize stuffed animals to make kiddos smile while still having my hands free to use the camera! My only complaint? - well, the adorable monkey covers my pop-up camera flash so I can only use it in bright light areas. No low light or situations that require a flash because Chimpy (yep we named her) covers up my flash and the photos didn't turn out well.
Otherwise - Chimpy is adorable and she had a light up feature too. Pressing her paw turns on flashing lights in all her paws and her ears. It is cute but not necessary for my kids. Just a fun feature for the older ones but an attention getter for younger children!
I can definitely see this cute camera toy being used by parents and up and coming photographers to aid in getting the attention of younger children for photo shoots and everyday photo fun. I found this to be a great idea, and something that I believe is great for mostly outdoor photos or well-lit areas not requiring a flash.

Disclosure: I received free the item(s) mentioned in this post in exchange for my honest review. Regardless ~ All my reviews are my honest and personal opinion.
I am disclosing this in accordance with the Federal Trade Commission's 16 CFR, Part 255: "Guides Concerning the Use of Endorsements and Testimonials in Advertising.".