Title:
Hello Bali |
Author:
Giselle
Shardlow
|
Illustrator:
Emily
Gedkyz
|
Publication Date:
April 23, 2014 |
Publisher:
Kids Yoga Stories |
Number of pages:
52 |
Recommended age:
2.5 to 6 years
Energize your body and mind with this yoga island adventure book for young children!
Say good day to the magical island of Bali! Join
Anamika
, one of the Yoga Kids, as she travels with her family to Bali, Indonesia. Surf like a surfer, dance like a Balinese dancer, and sit like a
monkey.
The book includes a list of Kids Yoga Poses, Map of Bali, Basic Indonesian Phrases, and a Parent-Teacher Guide with tips on creating a successful yoga experience. This yoga book for toddlers and preschoolers (ages 2 to 5) is more than a storybook, but it's also a unique experience for children.
Hello Bali can be found on
Amazon
(affiliate link) &
Goodreads
Let's Take a Sneak Peek at 2 of the pages Inside the Book: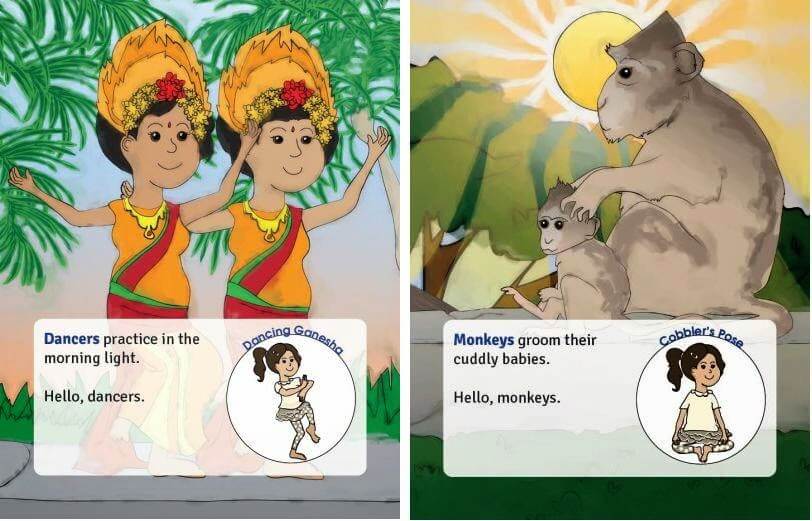 Review:
This is a cute book that teaches basic yoga poses for preschool aged children, along with some language learning (Indonesian) and map of Bali at the back of the book. There is also a teacher's guide for parents or adults to aid them in teaching a group of little ones the poses in the story.
The illustrations are simple, yet colorful and fun for very young children to enjoy. The story is written in simple and easy to understand language for preschoolers, and has fun and simple illustrations to go with each yoga pose throughout the story.
Cute book for teaching little ones basic yoga and introducing them to another culture at the same time.

Disclosure: I received free the item(s) mentioned in this post in exchange for my honest review. Regardless ~ All my reviews are my honest and personal opinion.
I am disclosing this in accordance with the Federal Trade Commission's 16 CFR, Part 255: "Guides Concerning the Use of Endorsements and Testimonials in Advertising.".