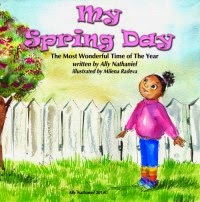 Get some fun ideas for spring outdoor activities for you and your child.
From the #1 best seller author of "Sparkly Me".
It is the first day of spring and Gabi and her siblings can't wait to go
outside, enjoy the weather and spend some fun time together.
This is another wonderful story about Gabi, Adam and Abigail, that will make your children want to go outside and enjoy some outdoor activities.
This book is about ~
Having fun together ~ Siblings relations ~ Creative thinking
About the Author
My name is Ally (Ayelet) Nathaniel and I'm a mom of three young children . I'm a pastry chef, and baking & cooking instructor. I teach and give lectures about cooking and parenting at community centers, the school system and parents groups. I have more than 10 years of experience in the culinary world, as well as editing an on-line parenting magazine and managing parent oriented forums, supporting parents with child care and educational issues.
Connect with the Author
Review
:
A fun look at the first day of Spring and the way it excites young children to get outside and play. After days of rain, three children look outside to see the sun shining, the birds singing and their excitement leads them to an adventure.
A fun read to me, or read with me book for younger children. Fun for beginner readers to read with Mom, Dad, Grandma or a Big Brother or Sister. Wonderfully illustrated, fun and easy to read. A great story for children ages 4 to 8.

Disclosure: I received free the item(s) mentioned in this post in exchange for my honest review. Regardless ~ All my reviews are my honest and personal opinion.
I am disclosing this in accordance with the Federal Trade Commission's 16 CFR, Part 255: "Guides Concerning the Use of Endorsements and Testimonials in Advertising.".