Disclosure: I got this product as part of an advertorial.
"Natural Relief for Dogs and Cats"
Pets are naturally attracted to the Achy Paws™ Pet Mat for its unique self-warming fabric. It's triple-layered thick with an inner layer of 100% Activated Bamboo Charcoal that activates with their body heat to bring restorative warmth to achy joints. Natural warmth also helps soothe tired muscles, reduce soreness, and melt
away discomfort. Great for any season as bamboo charcoal can also fluctuate according to your pets temperature to provide cooling relief. Give the gift of wellness today and we know your pets will love you for it!
Achy Paws is great for both Dogs & Cats - It is Self-Warming to provide all day relief of aches and pains. It is made from Bamboo Charcoal Technology. It soothes Achy Joints due to aging, reduces stress and anxiety and clams and relaxes pets. It has a high absorption of odor, moisture and dander and is machine washable.

Available in 5 Sizes:
Small: 20"x20"
Medium: 30"x20"
Large: 40"x30"
X-Large: 50"x30"
XX-Large: 60"x40"

Care Instructions: Machine wash in cold water. Dry on gentle cycle, low heat. To release odor, toxins, & pollutants absorbed by the support, place in direct sunlight or under a full spectrum light bulb once a month for an hour, or as desired.
Materials:
Dual Outer Layers (100% Polyester), Inner Lining (100% Bamboo Charcoal Viscose).
Amazon: only $19.99 plus free shipping
My Review:
Although my dog Daisy is not an older dog, she does occasionally have aches and pains from hunting birds in the Fall and Spring. I thought I'd have her try out the Achy Paws™ Pet Mat to see how she reacted to it. She normally loves to have a blanket on her when she is resting or sleeping, so I figured it would be similar.
At first she refused to lay on it, except when I gave her a treat. But I finally was able to get a photo of her laying on it. She does occasionally lay on it but only if it is on top of one of her beds. I don't know whether she likes it or not, but she doesn't seem to mind it anymore.
I lay on it myself to see if I could notice a difference - and did find that it seems to make my skin warmer wherever it is in contact.
I do think this would be a great warming Mat for older animals that suffer from arthritis or joint pain. It would ease their pain and help them rest. For now, we just use it as needed for when Daisy is sore from hunting. Or for times like in this photo where she just wants some snuggle time with her blankie - LOL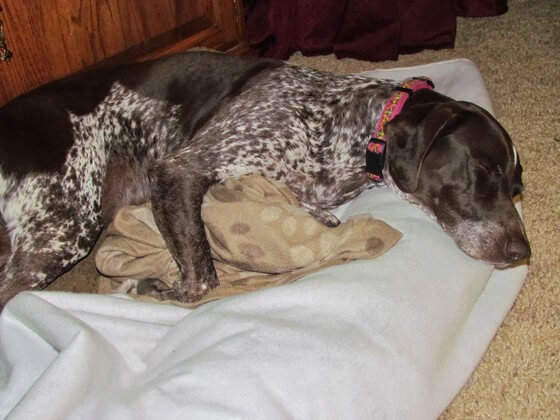 Daisy is a 7 year old German Shorthair Pointer - Chocolate with Chocolate Speckled Coloring. She is high energy, loves to run and point and chase rabbits, squirrels and birds in the backyard or Dog Park. Her favorite activities are running and playing chase and fetch with the kids, taking walks with "Dad", and going Hunting with "Dad" and "brother" for pheasants!
Enter below for a chance to WIN one of these great Achy Paws Pet Mats for your furry loved one. Open to US only - Must be 18 or older to enter/win - blah blah blah - Winner has 24 hours to reply to claim prize - blah blah blah - Good Luck!

Disclosure: I received free the item(s) mentioned in this post in exchange for my honest review using Tomoson.com. Regardless ~ All my reviews are my honest and personal opinion.
I am disclosing this in accordance with the Federal Trade Commission's 16 CFR, Part 255: "Guides Concerning the Use of Endorsements and Testimonials in Advertising.".