Jenni is a nurse turned stay at home mom with dreams of owning her own little boutique. The love of all things little girly have turned into a wonderful little business that makes people smile every day. I love giving those happy days to little girls and their parents alike.
Big Bows and Tippy Toes was merely a dream to me for years, until one day I decided that it could be more than that, if I wanted it bad enough. Through tons or hard work and determination, it came to be. We are located in East Texas with roots in Michigan and California. Most products are made as they are ordered, so please understand the need for the 7-10 day processing period before shipment, so this can be done for you. I hope you enjoy these most adorable girly clothes as much as I do.

***Big Bows and Tippy Toes has wonderful items for Infants through Girls 9/10, and adorable accessories as well! ***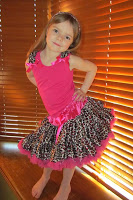 Review by Mom & Daughter:
My daughter, Allison, was so excited when we opened the box from Big Bows and Tippy Toes. This is the hot pink and leopard print pettiskirt set with pink top in size girls' 7/8. She had chosen this pettiskirt outfit as one of her top 3 favorites, and Jenni from BB&TT's ordered it made for her, for this review.
She says this is now her favorite outfit, and she constantly is asking if she can wear it! She loves the flowy skirt that swishes when she moves/dances. And she told me that the top and skirt felt very nice (on her skin).
I love the quality of the fabric, especially on the top. It is silky and smooth and great for sensitive skin. The skirt is well-made and the layers are absolutely adorable! My younger daughter (age 4) wants an outfit just like her sisters!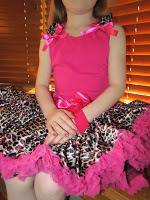 So far it has been worn several times with no rips or stains. I've only washed it on gentle cycle, then hung it to dry once. Hopefully It will continue to hold up as well as it has so far! We love the quality, and the look is exceptional! A wonderful outfit for any girly girl!
** As a special for my readers/followers - If you use the code READ2012 at Big Bows & Tippy Toes - you can save 15% off your order!
ALL I ASK IN RETURN IS FOR YOU TO VISIT THE BIG BOWS & TIPPY TOES SITE (EITHER AMAZON OR FACEBOOK) AND LEAVE A COMMENT BELOW TELLING ME 2 OR 3 OF THEIR ITEMS YOU LIKE, AND WHO YOU'D GET IT FOR!
ALSO, FEEL FREE TO "LIKE" ~ "TWEET" ~ "1+" THIS POST IF YOU ENJOY MY REVIEWS

*
I received a free sample of this product for this review from Jenni at BB&TT's. See my Policy & Disclosure page for more info.