Did you know that 99% of people cannot lick their elbows?
With LunchHugs® Creative Cards for Kids this fact and a multitude of jokes, brainteasers and mushy mommies complete with fantastic graphics can make sending notes in your child's lunches a lot of fun, not to mention easy and affordable. Thinking outside "the lunchbox", LunchHugs® make great gifts for grandparents, parents, teachers and friends. You can even use them as cards to send with gifts. The choices are only limited by your imagination!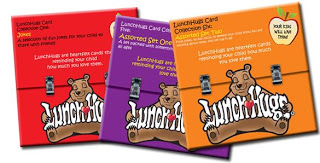 My Review :
~ Although my
2 oldest go to school each weekday, they do not often take their lunches. So when I received this wonderful set of Lunch Hugs cards to review I had to be creative. My son had a rough morning before school recently and left the house in a bad mood. When he arrived home, he found a funny Lunch Hugs card in his room waiting for him . . . it brought a smile to his face and earned me 2 big hugs! I love hugs from my kiddos!
~ My 7 year old had a rough weekend recently. She came home from school on Friday not feeling well, and spent most of the weekend in bed with a fever. On Sunday evening when she went to brush her teeth, she found a sentimental Lunch Hugs card beside her toothbrush . . . score 2 more hugs for mom! Yay me!
~ I even tried it out with my 4 year old. She found a funny Lunch Hugs card on her bed when she went to her room for "rest time." She opened it and asked me to read it to her. It was a Lunch Hugs card that I could write myself. . . I had written that I was so proud of her for helping me clean her room earlier. . . another BIG hug from my littlest child.
~ I will continue using these fun and unique cards to brighten my children's day and surprise them from time to time. I get excited waiting for them to find the cards, and I absolutely love seeing the joy on their little faces when they get those unexpected surprises . . . and the hugs are wonderful too! I have enjoyed all of the cards I've used so far, the only negative I can see personally is that lunchbox style tin I got with my card sets is too small for all the cards I have - lol! It holds about 3 - 4 boxes of cards if you take them all out of their boxes. To keep them in the boxes, only 3 will fit. :) Not really a bad problem to have. . . I just used one of my son's old plastic lunchboxes to put them in instead and they all fit!
Each set of Lunch Hugs comes complete with 10 creative and colorful 3 1/2" x 4 1/2″ cards, envelopes and 25 heart stickers all for $3.99 + shipping! That's less than the price of just ONE store bought card! With 7 different sets to choose from, the chances to add a little extra love in your child's day has never been easier.
There are so many sets to choose from :
My son loves the "Brainteasers", my girls both love the "Jokes", and all 3 kids love getting the "Have I told you. . " and the "Blank" cards with handwritten notes from Mom!
If you aren't sure which is best, there are several "Assorted" sets with a little bit of everything inside! A great intro set to buy.
*I received the above mentioned product(s) for free for this review. All reviews are my personal opinion. See my Policy & Disclosure page for more info.