Do you separate your child's holiday themed books from the rest of his or her library? I don't! I find that my kids enjoy reading Christmas and Easter themed books all year round.
Do you have a separate place in your home for your children's books, or are all the books in your house in one place together? Do your kids have a library of their own in their room(s)?
I'd love to hear your comments on these and other subjects. I love comments!
I have for review today, some children's books that I think are great for any day, any time, any season. They are fun, adventurous reads for children of all ages to enjoy.
by Marianne Richmond
About the Book
:
Six-year-old Ralphie invents every excuse to delay his bedtime. His perceptive mom, however, sees his stalling as her invitation to engage Ralphie in a silly series of kisses, hugs, pinches and pokes-all inspired by his favorite animals and each leaving the twosome in a heap of giggles.
"I'm not tired yet," said Ralphie, "and, Mom, there's a problem here...
A big mosquito in my room is buzzing in my ear!"
"Ralphie," said his mom, amused, and joined him in a huddle,
"Could it be that what you need
is a cozy polar bear cuddle?"
"I think I do," said Ralphie.
I'm Not Tired Yet
inspires a playful, endearing bedtime routine that leaves kids and grownups looking forward to nighttime, no matter how strong the allure of playtime.
My Review
:
This was a cute book. The mother in the story has a unique way to get her little one to finally get to bed and go to sleep. It is a fun book to read with a younger child.
This book was published March 1, 2012
by Paulette Bourgeois, Brenda Clark
About the Book
:
In this Franklin Classic Storybook, it's Valentine's Day and Franklin can't wait to give his friends the cards he has made. But when he gets to school, he discovers that they're missing. Franklin is heartbroken and worried that now his friends won't want to give him any cards. Big hearts prevail and Franklin soon learns that he has very good friends—and that he can be a good friend, too.
About the Author:
Paulette Bourgeois worked as an occupational therapist and a print and television journalist before she began writing for children. When
Franklin in the Dark
was released in 1986, it became a bestseller—and the Franklin phenomenon was born. Paulette has gone on to write over 30 Franklin stories illustrated by Brenda Clark that have been published around the world. Although Paulette is best known for the Franklin books, she has also written other children's titles, including a number of non-fiction books and the award-winning picture book
Oma's Quilt.
Paulette lives in Toronto, Ontario.
My Review :
As always, my children and I love Franklin. In Franklin's Valentines, Franklin had worked hard to make special valentine's for each of his friends. In his rush to school, he dropped them and they were ruined. He was heartbroken and thought his friends wouldn't give him any valentines since he couldn't give them any. He learns from Mr. Owl a lesson in friendship and love. This is a wonderful story for young readers and parents to enjoy together. It teaches how to handle disappointment, how to be a good friend and how to accept gifts even when you have nothing to give in return. Another wonderful book by author Paulette Bourgeois.
This book was published Jan 24, 2012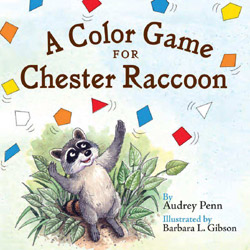 A Color Game for Chester Racoon
by Audrey Penn
In this new Kissing Hand board book, Audrey Penn brings us more maternal wisdom to solve another of early childhood's little issues. Whether on a trip, in a restaurant or a store, children can become bored and fussy.
A Color Game for Chester Raccoon
provides an activity that will entertain young children anywhere -- finding things in many colors: white, blue, yellow, red, orange, brown and black.
About the Author:
Audrey Penn is the author of
The Kissing Hand
and its sequels, along with
Mystery at Blackbeard's Cove.
My Review :
A Color Game for Chester Raccoon is cute, imaginative and fun for parents and children to read together. Chester and his friends play a seek and find game. They practice their colors by singing a rhyming song using the animals, plants and other things all around them. This book is a fun teaching tool for younger children. It helps them learn their colors in a fun and unique way. My children and I love Chester Raccoon and enjoyed reading this book.
This book will be available May 15, 2012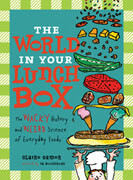 The World in Your Lunch Box
The Wacky History and Weird Science of Everyday Foods
by Claire Eamer
illustrated by Sa Boothroyd
Discover the tasty stories behind the foods we love.
A ham sandwich on white bread. Macaroni and cheese. Peanut-butter-and-banana roll-ups. They may sound like ordinary items, but they take us on an amazing journey through the rich history and astonishing science of food.
Explore a week of lunches—from apples to pizza—by taking a romp through thousands of years of extraordinary events. Some are amusing, like the accidental invention of potato chips. Others are tragic, such as the Spice Wars, which killed thousands of people.
Consider that ham sandwich: Ancient Romans first made ham by curing meat with salt and smoke to kill microbes, while yeast (which burps gas) produces the fluffy texture of bread.
Aztec farmers bred tomatoes from small, bitter berries into plump, sweet fruit, and watermelons sustained travelers 10,000 years ago in the Kalahari Desert.
With a vibrant design and quirky illustrations, THE WORLD IN YOUR LUNCH BOX is like the perfect lunch: satisfying, well-balanced, and totally delicious.
EXERPT :
"We're learning about cooking this year at school
and I thought is would be pretty boring.
The cooking teacher says

He says everything's interesting if you take the
time to learn about it, even stuff as dull as white
bread or potatoes. We all groaned when he said
that - well, wouldn't you? - but he says he's
going to prove it, and we're going to help."
My Review :
This is a cute book that mixes science, history and fun, with lunch. It is entertaining for children and adults alike. My 10 year old son loves the chapters on the lunch diaries. I enjoyed the funny stories of people in history eating weird and unusual things. This is a great book for entertainment or educational learning in a fun and unique way. Great for readers ages 9 and up.
This book was published on Feb 1, 2012
*I received ebook copies of each of these books through Netgalley.com for this review. All reviews are my personal opinions. See my Policy & Disclosure page for more info, and the FTC guidelines.