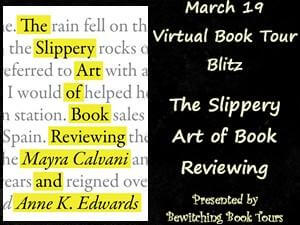 Are you passionate about books? Do you have the desire to share your thoughts about a book with readers, yet are unsure about what makes a good review? Are you curious about the influence reviews have on readers, booksellers, and librarians?
If you're an experienced reviewer, The Slippery Art of Book Reviewing will serve as an excellent reference tool and amalgam of resources. If you're a beginner, this book will show you how to write a well-written, honest, objective and professional book review. It will also teach you:
·
How to differentiate the various types of reviews
·
How to prevent amateurish mistakes
·
How to deal with the ethics and legalities of reviewing
·
How to tell the difference between a review, a book report, and a critique
·
How to start your own review site
·
How to publish your reviews on dozens of sites and even make money while you're at it, and much more
What some reviewers have said:
"As an experienced reviewer I learned that I do not know it all and will keep my copy of The Slippery Art of Book Reviewing for reference. It is not a book I will loan out because it won't be returned…If you want to break into book reviewing, The Slippery Art of Book Reviewing is a must-have reference. Heed the author's advice and you can write reviews that will get you and the books you review noticed."
–Reviewed by Sharon Broom, Armchair Interviews.
"The Slippery Art of Book Reviewing is a useful took for both amateur and professional book reviewers, as well as book review editors. There should be no doubt that the good tips, thoughtful perspective and resource information can be of considerable value to anyone wishing to practice this art."
–Reviewed by Emily-Jane Hills Orford, Allbooks Reviews.
"The Slippery Art… is an invaluable resource for anyone interested in book reviews – writers, reviewers, publishers, publicists, librarians, booksellers and readers."
– Reviewed by Francine Silverman, Editor of The Book Promotion Newsletter
Mayra Calvani writes fiction and nonfiction for children and adults. She's had over 300 stories, articles, interviews and reviews published both online and in print, in publications such as

The Writer, Writer's Journal, Acentos Review, Bloomsbury Review, Mosaic,

and

Multicultural Review

, among many others. A reviewer for more than a decade, she now offers numerous book reviewing workshops online. She also offers workshops on the art of picture book writing. She's represented by Mansion Street Literary and Savvy Literary. Visit her website at www.MayraCalvani.com
Anne K. Edwards is an award-winning multi-genre author, reviewer and editor of Voice in the Dark Ezine. Her latest novel is the suspense thriller, Shadows Over Paradise, published by Twilight Times Books. Visit her website at www.AnneKEdwards.com
Practical Advice to Remember When Reviewing
• Keep your writing style concise, direct and reader-friendly. Don't try to impress readers with fancy words.
• Whenever possible, try to specify the intended readership. Some books are specialized and appeal to only one group of people.
• Stay away from clichés like "A real page-turner!" "Un-put-down-able!" It's a pity, but even big newspaper reviewers sometimes use these expressions. You see them on the back of paperbacks all the time.
• Don't let a few typos affect your review if the book is good. Even books published by major houses sometimes have small errors.
• Be advised that the most commonly preferred tense when writing a review is the present.
• Read different types of reviews to get a feel of what a review should be like. Soon you'll be able to differentiate the well-written reviews from the mediocre.
• Try not to review books from family members, friends or people you know. The less you know about the author or publisher, the less chance of conflict of interest and the more freedom you have to be honest.
• If you read all kinds of books, then review all kinds of books, but if you mostly read books in one genre, then it's more sensible to only review books in that genre. Your reviews will have more insight, more 'meat' when you're familiar with other authors and books in that particular genre.
• Try to review books in the order in which you receive them. This will help in keeping up with deadlines and is only fair to the person who submitted it.
• If you plan to review books in all categories, make sure you understand the various types of genres and subgenres. It's embarrassing to complain in your review that a story has highly improbably situations if the story in question happens to be a parody!
• Don't be prejudiced. Don't assume that a self-published or small press book will be poorly written. Give it a fair chance and let it speak for itself. Likewise, never assume a book published by a major NY house has to be good.
* This promo provided by Bewitching Book Tours. I will be posting a personal review of this book later this month. *