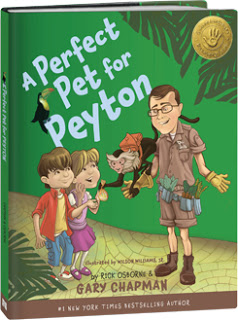 This wonderfully imaginative children's hardcover book by bestselling authors Gary Chapman and Rick Osborne, featuring four-color illustrations (with hidden details!) by Wilson Williams, Jr., will help children learn the importance of love. Based on Gary's highly successful The 5 Love Languages®, A Perfect Pet for Peyton tells an entertaining and playful story
of five children who each, with the help of Mr. Chapman and the unique pets at his special emporium, discover their own personal love language. Children and parents alike will experience firsthand the power of the love languages as they cuddle up and spend precious time together reading this book over and over again.
*Free interactive app with in-book experience COMING SOON to the Apple App Store.
My Review:
This book is based on The 5 Love Languages series by Gary Chapman. It is an entertaining adventure. My kids and I followed along with Penny and Peyton as they had a very special birthday party at the "Perfect Pet Pal Emporium." It is a place that is, as the book describes, "like a zoo, a museum, a theme park, and a birthday party palace all in one place." Peyton wants a special pet, not a boring pet. He thinks it will be hard to find the perfect pet for him, but he is in for some surprises.
My kids loved the characters of Penny and Peyton, but even more love the variety of animals and "pets" throughout the book. My four year old wants to "read" it herself several times a day. She continues to find new and interesting things on each of the wonderfully illustrated pages. Even as I'm typing this review, she's trying to grab the book out of my hand to "read" again! lol
I personally love the amazing illustrations, the lessons the story has, as well as how entertaining it is for me as a parent to read over and over with my children. I also really like the 5 Love Languages for kids portion at the end of the book. My kids had fun trying to answer the questions and figure out each of their personal love languages!
A wonderful story for young and old! I highly recommend this book!
*My review of The 5 Love Languages of Children will be posted later this week*
* I received a free copy of this book through Propeller for this review. All reviews are my personal opinion. See my FTC Disclosure on my Policy & Disclosure page.