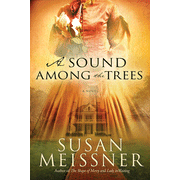 About the Book:
A house with a turbulent Civil War history becomes home to a new bride and stepmother in Susan Meissner's richly absorbing tale of a line of women stuck living in patterns of regret.
For 150 years, Holly Oak, a spacious Southern home, has stood the test of time and wills in historic Fredericksburg with Civil War scars to prove it. Marielle Bishop marries into the family with multi-generational ties to the home, leaving behind her independence and her love of Arizona's deserts to move to Holly Oak to become a wife and stepmother. But it isn't long before Marielle is led to believe that the house she just settled into brings trouble and misfortune to all the women who live there. Local folklore has it that Susannah Page, a Yankee spy who housed Union soldiers, haunts Holly Oak because she's longing for pardon. When Susannah's great-granddaughter Adelaide McClane tells her that the house is "stuck" because of it's tumultuous past, Marielle is determined to get past the rumors and uncover the secrets that are buried within its walls. With Adelaide's richly peppered superstitions and deep family roots at stake, Marielle must carve her new life out carefully as she sorts out the truth and makes peace with the sacrifices she has made for love.
My Review
:
A Sound Among Trees starts out slowly, I had a difficult time making myself finish it. The author, Susan Meissner,
has taken the stories of two women from different time periods and merged it into one intriguing adventure. As I read this book,
I could see why the author chose to write about the different women and different eras; but it almost seems like it would have been better to make it two separate stories instead.
I was initially intrigued by the description of the story, but once I began reading it – it fell short of my expectations.
I didn't enjoy it as much as I hoped.
I also felt that for a "christian fiction" book, there was not much reference to christianity.
Although the story itself was well-written, I really didn't care for it as much as I hoped.
As always, opinions differ.
If the story sounds intriguing to you, please go ahead and read it for yourself.
My opinions are my personal feelings and each person has different likes and dislikes.
*I received a free copy of this book through the Waterbrook Multnomah publishing group's Blogging for Books website. My opinions are my own. See my Policy & Disclosure page for more info.